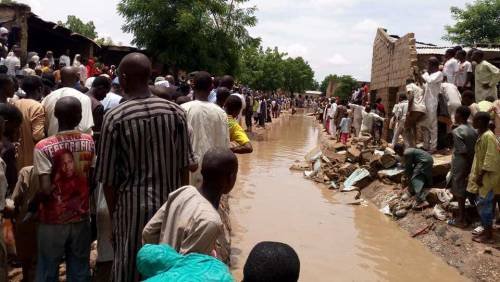 President Muhammadu Buhari has said the Nigerian Army, as well as other federal government agencies will support the National Emergency Management Agency (NEMA) to assist victims of flooding in the four states, where flooding has been declared a national disaster.
On Monday, NEMA declared flooding a national disaster in Kogi, Niger, Delta and Anambra following the flooding incident that destroyed houses and rendered thousands homeless.
Thereafter, in a tweet on Wednesday, Buhari sympathised with victims and ordered all agencies to take the directive on assisting victims "very seriously".
The post read: "Following the declaration of 'national disaster' in the four states most affected by the flooding, I have issued an order directing all Federal government agencies to use their authority and resources to assist the victims. All agencies are expected to take this very seriously.
"My sympathies go to all persons and communities who have been affected; who have lost loved ones and property to the flooding. NEMA is coordinating the national response to the flooding, and will be actively supported by the military, and other agencies."