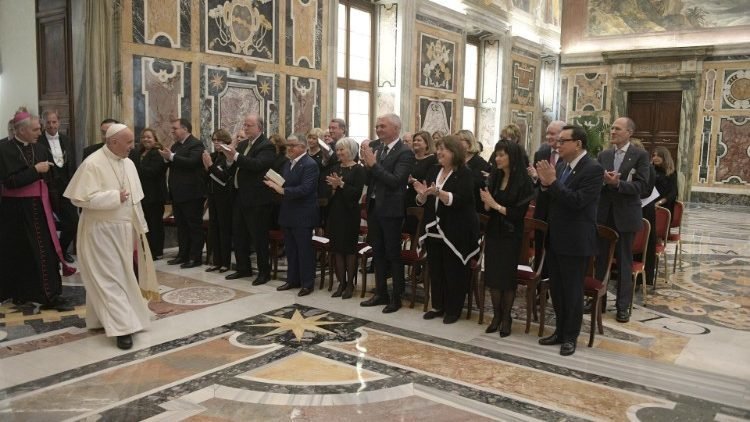 "In today's troubled world, unfortunately so often torn and damaged by selfishness and the thirst for power, art represents, perhaps even more than in the past, a universal need because it is a source of harmony and peace, and expresses the dimension of gratitude."
Pope Francis made the observation on Friday to some  45 member  of the association, Patrons of the Arts in the Vatican Museums, on the occasion of the 35th anniversary of their foundation.
Founded in 1983, following a major Vatican exhibition tour in the United States, the Patrons of the Arts in the Vatican Museums support the preservation and conservation efforts of the Museums.
Art witnesses to God
In his address to the group, the Pope observed that "art has been second only to life in bearing witness to the Lord" and allows us "more than by words and ideas to approach the faith, because it follows the same path of faith, that of beauty."
The beauty of art, he said, enriches life and creates communion, because it unites God, man and creation in a single symphony.  It connects the past, the present and the future, and it attracts – in the same place and with the same gaze – different and far-off peoples.
Pope Francis thanked the patrons for their generosity in the restoration of numerous art treasures of the Vatican Museums, saying it is their contribution to a centuries-long tradition, imitating the achievements of those who contributed to the Church's history through art.