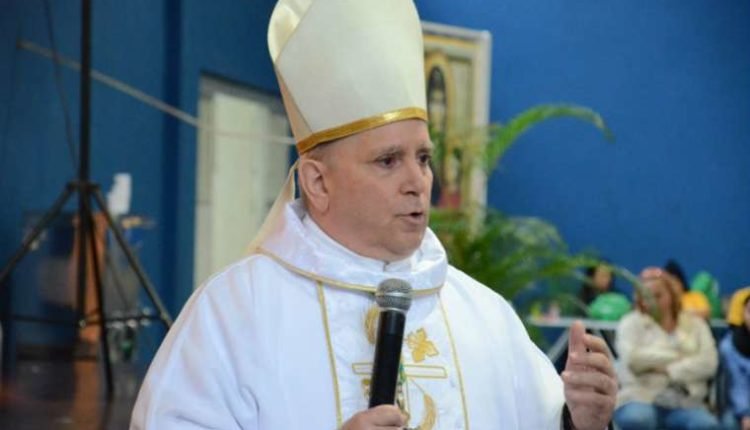 The Archdiocese of Denver has released a letter in response to accusations posted online by one of its priests. Fr. David Nix alleged in a blog post that he had been left homeless by the archdiocese. The letter, signed by Archbishop Samuel Aquila, said that Fr. Nix's account made a number of false claims, and called the situation "unfortunate."
In a post published on his own website Sept. 27, Nix alleged that earlier this year he relayed allegations of sexual misconduct to archdiocesan authorities and in response was left without an assignment or a residence.
Aqulia responded strongly to this accusation, writing to all the priests of Denver Sept. 28 to say that Fr. Nix had effectively tried to blackmail the archdiocese.
"The truth is that in an email he wrote on May 24, Fr. Nix made threats that if he couldn't dictate his own assignment, he would pursue civil litigation, embarrass me personally, or make known to the media supposed harmful information about two historical situations," Aquila wrote to his priests.
"This approach of using a threat to obtain his desired outcome raises serious civil and canonical implications, which is exactly what he was told, and frankly it is offensive to any right-thinking person."
Nix alleged that in May he relayed a "third-hand" account about a "high-power priest" concerning an event in the 1980s. Since reporting the allegations, he claimed, he has been left "homeless" by the archdiocese.
The online post also said that the priest knew of a case from five years ago concerning misconduct by a seminarian. In the latter case, Nix said the seminary reported the matter to the police at the time.
"To be clear, the two allegations Fr. Nix was using to try to control his assignment are not dark secrets that somehow make Fr. Nix a 'whistle blower.' One involved a seminarian and the matter was fully reported to law enforcement in 2012 and the seminarian involved was dismissed from the seminary," Aquila's letter said.
"The second allegation involves a third-hand report from the 1980s, and Fr. Nix confirmed in writing, and then in person to both an official of the curia and a member of the Conduct Response Team, that there was absolutely no allegation of any sexual contact or abuse."
Aquila said in his letter that there was no question of suppressing any allegation of misconduct against anyone.
"In all of our dealings with Fr. Nix, we have been clear that if there is information about a crime, it must be reported to law enforcement… Most importantly, I have always been direct that in no event would I allow any wrongdoing to be 'covered up,' for his benefit or for any other reason."
In the narrative posted online, Nix claimed that since relaying the allegations he had frequently requested an assignment and a residence from the archdiocese over the last few months but that he has not received either. Instead, he maintains, he has nowhere to live and has been left to stay in motels or in his car.
The letter from Aquila called this "just another sad chapter" in the "long saga" of Nix's dealing with the chancery dating back to before his installation as archbishop.
"Rest assured that contrary to Fr. Nix's claims, he has been paid the full salary due to him, which of course is a documented fact," Aquila said. "We have tried to speak with Fr. Nix, but he fails to show up for scheduled meetings, is hard to get ahold of, and even just yesterday he rebuked [Denver auxiliary] Bishop Rodriguez."
"We will continue to try to help Fr. Nix, if he will let us."
Nix was ordained eight years ago for the Archdiocese of Denver. In the first four years of his ministry he had four parochial assignments in what he refers to on his website as "novus ordo parishes." According both to his own blog and to the Archdiocese of Denver, Nix found it difficult to settle in any of these parishes.
Aquila's letter explained that "It reached a point where, after four failed parish assignments, it became very difficult to find a pastor who would receive Fr. Nix as a parochial vicar. In the face of this difficulty, my staff and I have continued to work hard to find an assignment for him, including with various groups outside of the Archdiocese."
In 2014, Nix was permitted to seek ministry in other dioceses and with religious orders, often asking to celebrate the sacraments according to the extraordinary form of the liturgy. In each case, he was eventually asked by the other dioceses to return to Denver, the archdiocese said. More recently, Nix said he had asked the Archdiocese of Denver to allow him live as a hermit in the archdiocese.
Nix's website contains numerous postings on his travels, reflections on liturgy, and other Church related matters. In some posts, he writes about what he sees as the infiltration of the priesthood by "communists, gays, and freemasons."
Several priests in the archdiocese told CNA that they remembered Nix from his time in parish ministry, but did not wish to have their names made public.
One such priest told CNA that the behavior detailed in Aquila's letter was familiar.
"When I read Archbishop's letter, I was not surprised to hear Fr. Nix had threatened him in that way. Years ago, Fr. David made a similar threat to undermine me in my ministry if I didn't accede to demands he made," the priest told CNA.
Another priest told CNA that Nix had told him he was initially held back from ordination because of "psychological issues."
For his part, Nix insists that he is a priest "in good standing" and noted in his post online that the archdiocese have not restricted his faculties in any way. The Archdiocese of Denver also stressed that no disciplinary action had been taken against him.
CNA attempted to reach Fr. Nix for comment, but calls to his phone went unanswered.
Aqulia stressed to the priests of Denver that he had not wished for the situation to become either public or acrimonious, telling them that in priest personnel matters "it is the Archdiocese's and my practice to honor confidentiality."
In this situation, he said, "because Fr. Nix is attacking the Church, my staff, and me, and is speaking about these things in a very public way, it is necessary to be clear with you about this matter."
The letter concluded with the archbishop asking the priests of Denver "not to be mad or upset with Fr. Nix, but instead we must always act with compassion and caring."