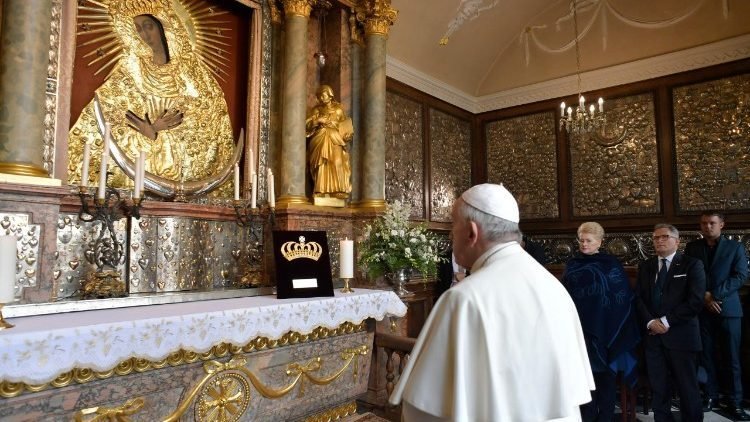 Pope Francis began by recalling the history of the shrine. He focused on the invading forces of 1799. They destroyed the wall in which the shrine stood, leaving intact one single gate: the one that "sheltered the image of the Virgin Mary 'Mother of Mercy'".
Pope Francis said that from then on, Mary has worked to teach us that we can "defend without attacking" and that we can "keep safe without the unhealthy need to distrust others".
The value of fraternity
The Pope said that the image of Jesus is imprinted on every human heart, making it possible for us to encounter God. When we build walls and close our hearts out of fear of others, "we end up depriving ourselves of the Good News of Jesus".
This is what we did in the past, he said: We "built all too many fortresses". Today, Pope Francis said that we "feel the need" to acknowledge one another as brothers and sisters and experience "with joy and peace the value of fraternity".
To share, to enrich
Pope Francis said that "thanks to ready communications and the freedom of circulation between our countries" numerous nationalities, Catholic and Orthodox, are able to freely visit the Mother of Mercy. He expressed "how good it would be" if this could be accompanied by "ease in establishing points of encounter and solidarity" in order to share those gifts "we have freely received". This, according to Pope Francis, would be a "source of enrichment in our lives".
Charity is key
"The Mother of Mercy, like every good mother, tries to bring her family together" he said. "She whispers in our ear: 'Look for your brother, look for your sister'", opening the door to "a new dawn, a new day".
The Mother brings us to the very doorstep of this new day, where the "children and families with bleeding wounds await us". Referring to Lk 16:19-31, he said that these wounds are not those of Lazarus in the parable, but that "they are the wounds of Jesus". "They cry out for us to bring them the healing light of charity. For charity is the key that opens to us the door of heaven", just as God did for Lazarus.
Bridges, not walls
The Pope concluded by saying that crossing this doorstep will lead us to "experience the power that purifies our way of dealing with our neighbours". Asking that Mary our Mother "grant that we may regard their limits and faults with mercy and humility, thinking ourselves superior to no one." and that Lithuania "be a country that chooses to build bridges, not walls".