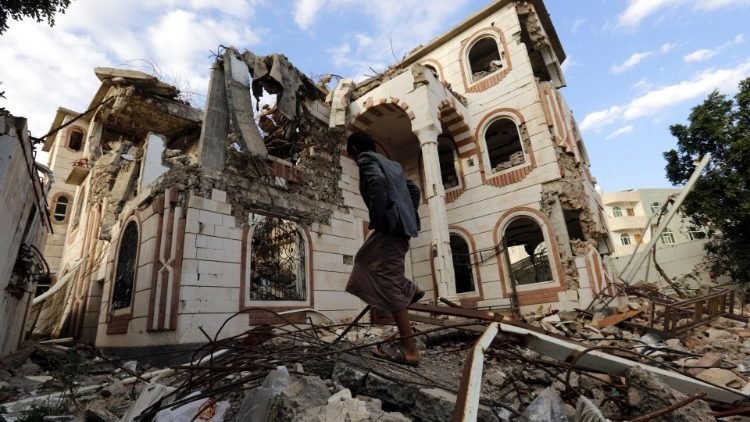 The Holy See has reiterated its commitment to conflict prevention, conflict resolution and post-conflict stabilization and peace consolidation, stressing that development, security and human rights are the key to peace.
Speaking on behalf of Archbishop Bernadito Auza, the Holy See's Permanent Observer to the UN in New York,  Second Secretary, Father David Charters made the pledge in an address on Thursday to a UN General Assembly meeting on peacekeeping operations.
Fr. Charters recalled Pope Francis' advice that war is the negation of all rights.  Hence, to ensure human development, we must work tirelessly to avoid war between nations and peoples by ensuring the rule of law and by never tiring to have recourse to negotiation, mediation and arbitration.
Participation of all citizens
The Holy See mission official said that conflict prevention, conflict resolution and peacebuilding processes and efforts must involve all sectors of society, in order to foster trustamong all its citizens.  Inclusive partnerships at all levels thus become community efforts in building build lasting peace and stability.
Role of women
An important element in building peace and security, Fr. Charters pointed out, is the full participation of women.  Even though many women have not been visible at negotiating tables, he said, they have always played an important part in the prevention of conflicts and in the implementation of peace accords.
Fr. Charters said women are the agents of change on the ground, the best teachers of empathy in the sufferings of others and attention to the points of view of others, with a particular capacity to forgive and to take the first steps in the process of healing and reconciliation.
Root causes of conflicts
The Holy See official pointed out that lack of development, security and human rights are the root causes of conflicts.
Fr. Charters said that insecurity and injustices like inequality, corruption, poor governance and illicit financial and arms flows, all give rise to violence in societies. On the contrary, inclusive and sustainable development is not only an end in itself but is also the best defence against the risks of violent conflicts.
Displaced
Fr. Charters denounced the practice of forced displacement as a military tactic by states and non-state actors, saying it has particularly disastrous consequences for minority populations, including religious minorities.
In the face of millions of refugees and peoples forcibly displaced by conflicts and persecutions, the Holy See said that the respect for fundamental human rights and the dignity and worth of the human person must be at the heart of our response to their plight.
He recalled Pope Francis' appeals on several occasions for the spirit of compassion and solidarity, to welcome, protect, promote and integrate them.