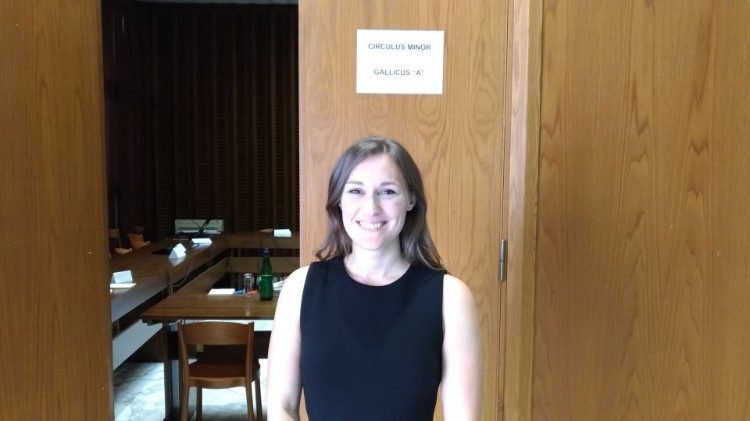 "The fraternal atmosphere that we are experiencing here" is a quality Emilie didn't expect to feel at the Synod of Bishops of Young People.
She says that as time goes by the Bishops and auditors are feeling more and more comfortable around each other. This trait is especially visible in the small group meetings, and she calls it "really quite beautiful".
Free Synod
"I've experience a lot of freedom here" says Emilie, describing how open the conversations are. She says that the Synod Fathers are "definitely" listening to the perspective of young people. And that although in the Synod Hall it's "a little bit harder" and "not everybody has the chance to speak", they are "giving the floor to young people whenever there are free interventions".
She says that there is a real freedom "that that has to do a lot with the conversations that are happening in the small working groups". In these groups she has been able to share "as much or as little" as she's felt like sharing, and "if I don't talk for a while there is always someone to make sure to include me in the conversation".
Who is Jesus?
Emilie thinks that one of the main issues she's seen come up at the Synod is that "a lot of young people don't really know who Jesus Christ is". At times, she says, they "might not even be interested in God".
First, evangelisation
She says that what is coming out of the small groups is that "before we can talk about anything else with them: whether that be vocation or accompaniment …. or even dealing with other issues: young people need to be evangelized."
According to Emilie, there is a need for the Church to "pass on the fullness of the Catholic faith". It needs to happen everywhere, "continuously, in a young person's life and through adulthood", she says.
Communities: the strength of the Church
She believes that "communities" are the best tool the Church has to offer in order to transmit the message of the Gospel. "It's within the community of the faith that people have the experience of Jesus as a body" she says, stressing that "young people can be encouraged especially when they see their peers or other members of the community live out the fullness of the Catholic faith.
"We need to be involved in people's lives, be in a relationship with them and love them, because it's really through relationships that we can accompany and also lead young people closer to Christ."
Can't beat them? Join them.
Emilie acknowledges that the digital age is "present" and that "we can't really get away from it". She says that "we can learn to use it well and not let it be a distraction to our relationship with others and our relationship with God".
Social media, according to Emilie, can definitely be "a good platform for evangelization". She stresses that "that is where young people are" and that the Church and Catholics should be there too. But, she says, "it's not enough" and she believes other people would agree that "one-on-one relationships are the way to go".
"Technology can be a tool" for evangelization, "but it's not everything".