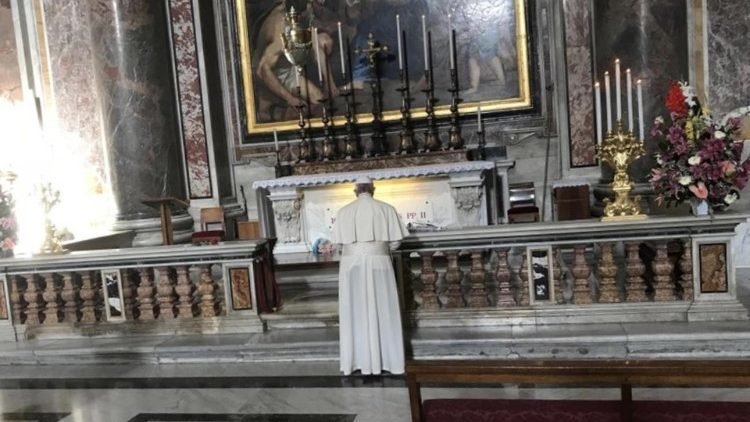 Pope Francis on Monday stopped by briefly to pray at the tomb of St. John Paul II in Rome's St. Peter's Basilica on the day the Catholic Church marks the feast day of his predecessor.
Traditionally, the feast of a saint is celebrated on the anniversary of his/her death, the day the person left for his/her eternal abode.  However, in the case of Pope John Paul II, his feast was fixed for October 22,  when his pontificate was officially inaugurated.
John Paul II of Poland was elected on October 16, 1978, becoming the first Slav pope and the first non-Italian pope in 455 years since Dutch Pope Adrian VI, who served from 1522 to 1523.
Six days later, on October 22, he inaugurated his pontificate with a solemn High Mass in Rome's St. Peter's Square.
John Paul II died on April 2, 20015, after leading the Church for over 26 years.
Pope Francis beatified him on May 1, 2011, establishing October 22, the day of his inauguration, as his feast day.
Three years later, Pope Francis officially declared him a saint on April 27, 2014, along with Pope John XXIII.