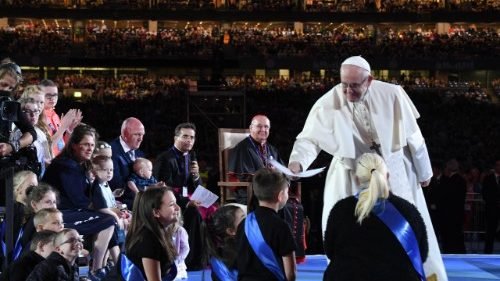 On Saturday night, after the Festival of Families in Croke Park Stadium, Dublin, our correspondent, Lydia O'Kane, spoke with families, to get an insight into the effect that the celebration and the Pope's presence had on them.
No shame in saying "I love you"
One of the members of the audience, Fr. Alan Neville, MSC, said he was struck by the "sense of authenticity" at the event. He told Lydia that seeing everyone "gathered in prayer, in hope and joy" was "just wonderful". He noted that the Irish word for church literally means "house of the people" and spoke about the acceptance of everyone into the Church. "The stained glass windows are not enough" he said, stating that when we say "you are welcome here" we need to mean it.
One of the main ideas he took away from the Pope's visit was the idea of "presence". Fr. Alan asked how we are present to one another, replying to his own question by saying that the words that Pope Francis encourages us to use more – "please", "thank you" and "I'm sorry" – help nourish harmony among people. We are "meant to be a people of love", he says, and yet as we grow, we are "almost ashamed to say 'I love you'"
Another witness was a mother of Polish origins who sees her family as a "support", and describes Pope John Paul II as her "idol". She recalled St John Paul II's visit to Ireland, and said she was thrilled that she and her family were able to be present in this new, historical, event. "There's nobody like family", she said and she told Lydia how thrilled she is for her daughter who, after having performed on her violin during the Festival, "is on cloud nine". Her daughter, she said, was at the stadium "practicing until 11pm last night and [was] back at 10am this morning", in anticipation of the Pope's arrival. "The Pope is amazing", she said "look around you, everyone's just come together."