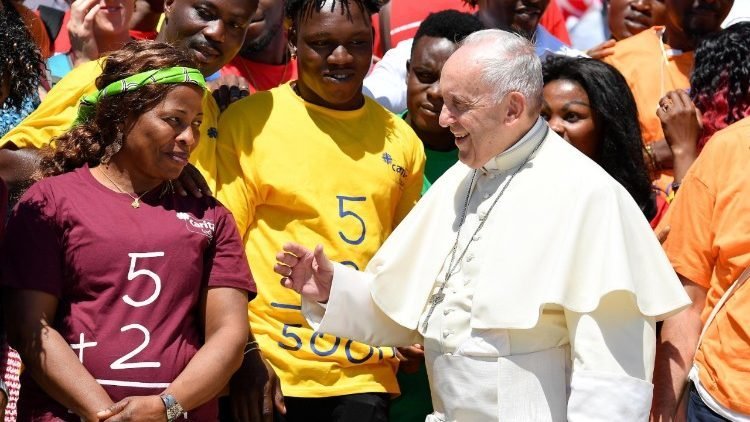 Thousands of refugees in Rome are forced to squat in occupied buildings and makeshift homes.
Instead of receiving support, they are left on their own to try and find solutions to services that should be provided by the state.
Thanks to a series of Church-based initiatives, some of the most vulnerable migrants – namely women and their children – who have been granted refugee status or temporary residency can find a roof over their heads and make solid plans for the future.
"Chiare Gynai" is one such project which is about to open two houses run by the Scalabrinian Sisters in Rome.
Scalabrinian Sister Elizabeth Pedernal, General Councilor of the Missionary Sisters of St. Charles Borromeo told Linda Bordoni about the initiative.
Sister Elizabeth said the two houses specifically geared to host women refugees with children and migrants in vulnerable situations have been set up thanks to a project "Chaire Gynai", a Greek phrase that stands for "Welcome woman".
The two houses are located in Rome and will be officially inaugurated on September 30.
Sister Elizabeth said refugees and migrants from Nigeria, Somalia and Ethiopia have already been welcomed into the houses.
Responding to the call of Pope Francis
The initiative, she says, responds to the call of the reality of migration and "to the call of our dear Pope Francis – as we know migrants are close to his heart – in order to help out and promote the upholding of human dignity."
Pointing out that the four guiding verbs the Pope has highlighted are "to welcome, protect, promote and integrate" Sister Elizabeth says that this particular project is really to welcome and to protect and to favour the promotion and integration of people in vulnerable situations".
A choral initiative
She explained the initiative was made possible not only by the Congregation of the Scalabrinian Missionary Sisters, but also by the Dicastery of the Holy See for the Promotion of Integral Human Development and by the Congregation for Institutes of Consecrated Life and Societies of Apostolic Life, of the International Union of Superiors General.
She underlined that they will provide temporary accommodation to women who have already obtained the recognition of refugee status in Italy or who could regularize their migration status.
"In the two houses you can stay for a period ranging from 6 months to a year" she said, until they have achieved autonomy and integration. As well as legal assistance they may require to complete their residence status, Sister Elizabeth explains that during that time they will receive support in learning Italian, in sending their children to school, in looking for employment and generally finding stability.
The Scalabrinian Missionary Sisters
The Scalabrinian Missionary Sisters were founded in 1895 in Piacenza and are currently present in 26 countries around the world. They are engaged in pastoral activities and direct assistance to migrants in emergency situations; in training projects, in pastoral accompaniment and in integration processes.