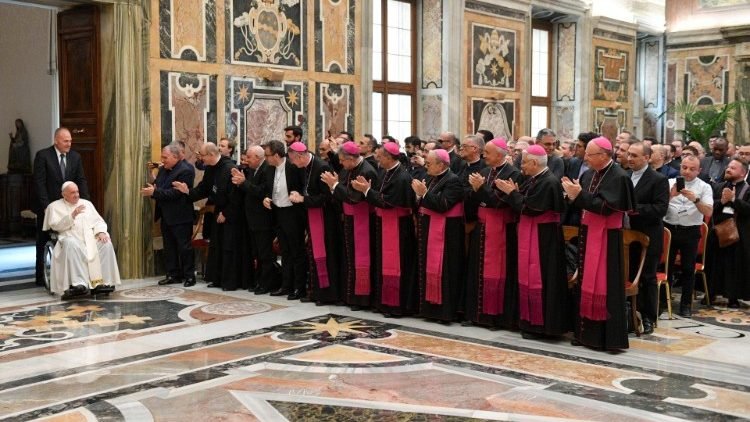 Pope Francis meets with the Bishops and priests of the Italian island of Sicily, and urges them to draw near and show tenderness to the many Sicilians who taste bitterness and disappointment due to a lack of employment opportunities.
By Devin Watkins
The Bishops and priests of Sicily met with Pope Francis on Thursday in the Vatican, who encouraged them in their mission to lift up their compatriots.
The Pope noted that the Italian island has historically acted as a waypoint for the movement of peoples, who sometimes came as conquerors and at other times as migrants.
Each wave of people has left their mark on the local culture.
"This is not to say that it is a happy island, because the condition of insularity profoundly affects Sicilian society, bringing to the fore the contradictions we carry within ourselves. In Sicily we witness attitudes and actions marked by great virtues as well as cruel brutality."
The Pope lamented that many children avoid schooling and turn to a life of crime as a result of high youth unemployment rates, which hover near 50 percent.
"The current situation in Sicily has been in decline for years," he said. "One sign is the depopulation of the island, due to low birthrates and mass emigration of young people" who leave to find work elsewhere.
Priests as courageous moral guides
In response to this difficult situation, Pope Francis urged the priests and Bishops of Sicily to dedicate themselves "completely and exclusively" to proclaiming the Gospel of Christ in the midst of an epochal change.
He pointed to the heroic examples of Blessed Pino Puglisi and Blessed Rosario Livatino, as well as to other lesser-known servants of the Church who sought to push back against the mafia and show Christ's love to Sicilians.
"This is why people in Sicily still look to priests as spiritual and moral guides, as people who can help improve the civil and social life of the island, support families, and be a point-of-reference for young people. Sicilians have a high and demanding expectation of priests."
Embracing disappointment
The Pope encouraged Sicily's priests to welcome the challenge of ministering to those who stay on the island.
"Feelings of bitterness and disappointment prevail among the people of Sicily due to the distance that separates them from the richer and more developed parts of Italy and Europe. Many people, especially young people, hope to leave to find richer and more comfortable standards of living, while those who remain harbor feelings of frustration. Therefore, we pastors are called to fully embrace the life of this people."
Pope Francis held up the example of the prophets of ancient Israel, who spoke courageously to their contemporaries, and urged priests to speak on behalf of "justice, reconciliation, honesty, and forgiveness."
"Closeness, compassion, and tenderness: These traits mark the style of God and that of the pastor," said the Pope.
A bishop presents the Pope with a book
Marian devotion of Sicily's priests
In conclusion, Pope Francis praised the Marian devotion of Sicilians and pointed to two values which it should engender in priests and Bishops.
The first, he said, is the value of unity in the Church in Sicily, which seeks to form priests who know how to listen in humility and sincerity.
The other value, he noted, is that of trust in Mary, expressed in the Rosary and heartfelt prayer. "The priest and our Heavenly Mother," he said, "should engage in a daily dialogue which offers comfort and binds up every wound."