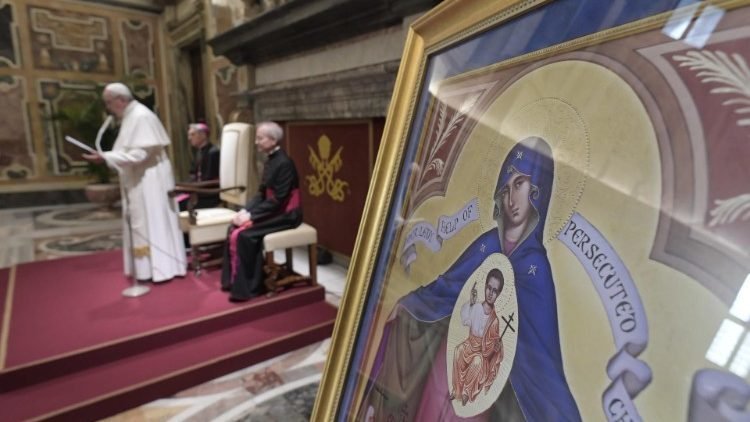 Pope Francis addressed members of the Equestrian Order of the Holy Sepulchre of Jerusalem on Friday, at the end of its 4-day Consulta on 13-16 November.
The Consulta is the Equestrian Order's general assembly, which takes place every 5 years. Ranking members gather in Rome "to discuss the great questions of the Order's mission and life."
Pope Francis took the opportunity to highlight "the dramatic situation of Christians who are persecuted and killed in ever-greater numbers."
He also called attention to a type of "white martyrdom, like, for example, that type which occurs in democratic countries when religious freedom is limited."
He exhorted the knights and dames of the Holy Sepulchre to offer both "material aid" and "prayer, constantly invoking the Blessed Virgin, whom you venerate under the title of "Our Lady of Palestine".
"She is the caring Mother and Help of Christians, for whom she obtains strength and comfort in pain from the Lord."
Path to peace
Pope Francis also thanked the Equestrian Order for supporting the Church's pastoral and cultural initiatives.
"I encourage you to continue your commitment, alongside the Latin Patriarchate, to addressing the refugee crisis that has led the Church over the past five years to provide a significant humanitarian response throughout the [Middle East]."
He congratulated the Order for opening its educational initiatives and health programs to all people, "independently of the community they belong to and the religion they profess."
The Pope said this openness helps "pave the way for the recognition of Christian values, the promotion of interreligious dialogue, mutual respect, and reciprocal understanding."
Pope Francis said the Order's work contributes to achieving peace in the Middle East.
Spiritual growth of members
The Equestrian Order of the Holy Sepulchre is present in more than 30 nations and areas around the world, providing education and formation programs.
Pope Francis said the Order's primary aim is related to "the spiritual growth of its members".
Each knight and dame, he said, should take part in religious formation programs, "so that each member may consolidate their indispensable relationship with the Lord Jesus, especially in prayer, meditation on Holy Scripture, and studying the doctrine of the Church."
He invited the Order's leaders "to offer an example of intense spiritual life and concrete adhesion to the Lord."
"Do not forget that you are not a philanthropic organization, whose aim is to improve the material and social standing of those you assist."
The Holy Father said members of the Holy Sepulchre Order are called focus their efforts "on the evangelical love of neighbor, so as to bear witness everywhere to the goodness and care with which God loves every person."
At the conclusion of the audience, Pope Francis blessed an icon of "Our Lady, Help of Persecuted Christians".
"Let us together invoke Mary's care for the Church in the Holy Land and more generally in the Middle East, together with her special intercession for those whose lives and freedoms are in danger."