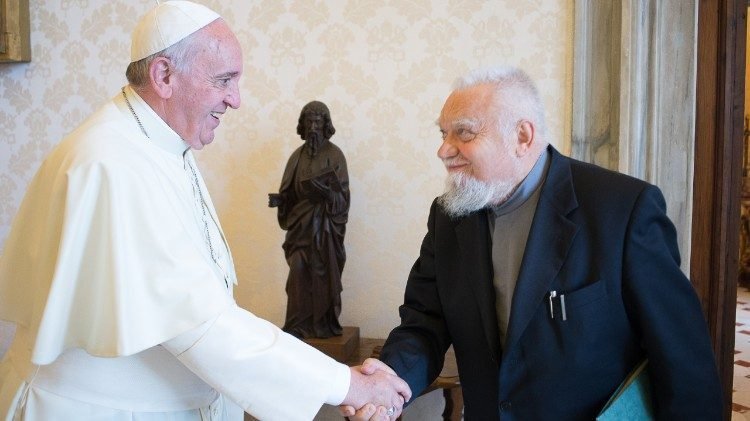 Pope Francis on Monday thanked Enzo Bianchi, founder of the ecumenical Monastic Bose Community for years of "fruitful presence in the Church and in society".
In a letter addressed to Bianchi, who planted the first seeds of the community in 1965 – significantly on the day the Second Vatican Council ended – the Pope said "its simple beginning has become a significant mission which has favoured the renewal of religious life".
The community
The community today is made up of some 80 brothers and sisters from different Christian churches who live a life of prayer and work, seeking God in prayer, poverty, celibacy and obedience to the Gospel.
The Pope's message marks 50 years since Enzo Bianchi wrote its Rule.
Place of prayer, encounter, dialogue
"Within this stream of grace" Pope Francis said, "your community has distinguished itself in its commitment to prepare the way for unity among Christian Churches, becoming a place of prayer, encounter and dialogue in view of the communion of faith and love for which Jesus prayed".
He also expressed his appreciation for the community's ministry of hospitality which welcomes all, without distinction – believers and non-believers – as well as for its capacity to listen and to console and for its service of discernment for young people in search of their role in society.
Contemporary challenges
He encouraged Bose Community members to be "ever more witnesses of evangelical love" and witnesses of authentic fraternal communion in the face of contemporary challenges.
"May community elders encourage the young and may the young take charge of the elderly: a precious treasure of wisdom and perseverance" he said.
And he urged them to continue to be attentive to the little ones, the least, pilgrims and foreigners as "they are the most fragile members of the body of Jesus".
"May this anniversary be a moment of grace for each of you" Pope Francis said, "a time to meditate more intensely on your call and your mission" and may the sobriety of your life "be a shining witness to the radical nature of the Gospel".
May your fraternal and charitable lifestyle, he concluded, "be a sign that you are a house of communion where all can be welcomed as Christ in person".