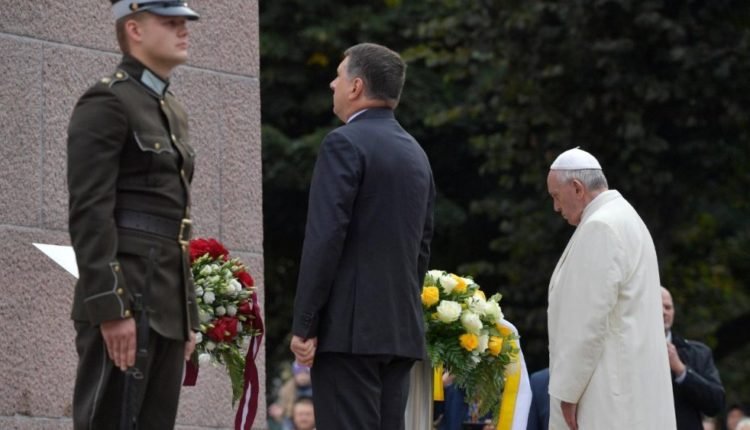 Latvia's Freedom Monument rises more than 42 meters in a piazza in the centre of Riga, the nation's capital. The monument honours those killed during the Latvian War of Independence (1918-1920).
During his brief visit, Pope Francis laid a wreath of flowers at the base of the Monument.
Designed by Latvian sculptor Kārlis Zāle, the Freedom Monument features a 19-meter obelisk of travertine marble, surmounted by a copper figure of "Liberty," bearing aloft three stars representing the Latvian regions of Vidzeme, Latgale, and Courland. At the foot of the structure are sculptures dedicated to Latvian riflemen, Workers, Singers, Families, Scholars, and Guards of the Fatherland.
On the base of the Freedom Monument is a dedication by Latvian poet Kārlis Skalbe: "For Fatherland and Freedom."
Despite its symbolic and patriotic value, the Monument was not destroyed by the Communist regime during the Soviet era. To this day, it is a tradition of the local people to lay flowers at the foot of the statue, where an honour Guard stands continual watch.