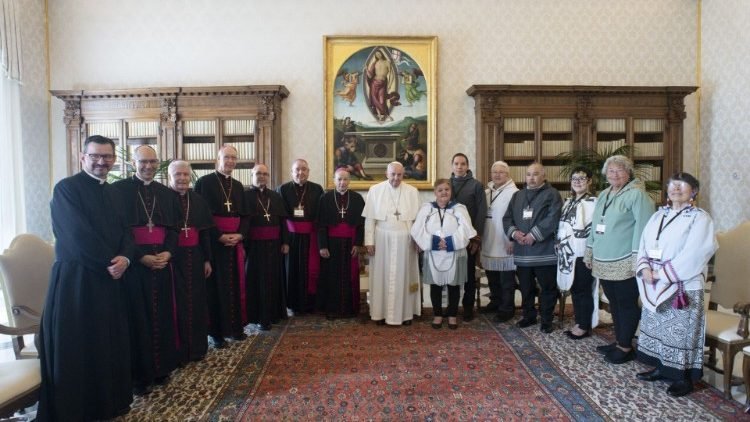 Pope Francis will be traveling to Canada from 24 – 30 July, and will visit the cities of Edmonton, Québec and Iqaluit.
By Vatican News staff writer
The Holy See Press Office on Friday announced that Pope Francis will be travelling to Canada from 24 – 30 July, having accepted invitations from civil and ecclesiastical authorities, as well as the indigenous communities.
The upcoming July visit of the Holy Father will see him visit the cities of Edmonton, Québec and Iqaluit.
Further details about the Pope's journey to Canada will be made available in coming weeks, the Press Office statement said.
Meetings with delegations of Canadian indigenous peoples
Ahead of this latest announcement, Pope Francis, in recent weeks, has had a series of meetings with several delegations of Canadian indigenous peoples in the Vatican.
The Pope met with the delegations of Métis and Inuit on 28 March and with the First Nations delegation on 31 March. He then received all three delegations together, along with representatives of the Canadian Bishops' Conference (CCCB) on 1 April.
The meetings provided the Pope the opportunity to "listen and to offer space for the painful stories shared by the survivors," and to address the ongoing trauma and suffering faced by Indigenous Peoples to this day, especially after news broke last year of the discovery of mass graves in the Kamloops Indian Residential School, with the bodies of hundreds of indigenous people.
The discovery marked the symbol of a cruel past, which from 1880 to the final decades of the 20th Century, saw government-funded institutions run by Catholic organizations try to educate and convert indigenous youth.
Pope Francis expressed his indignation and shame "for the role that a number of Catholics, particularly those with educational responsibilities, have had in all these things that wounded you [the Indigenous Peoples], in the abuses you suffered and in the lack of respect shown for your identity, your culture and even your spiritual values."
On that occasion, the Pope also said that he had been enriched by their words and testimonies and would be happy to benefit again from meeting them when he visits their native lands, where your [their] families live.