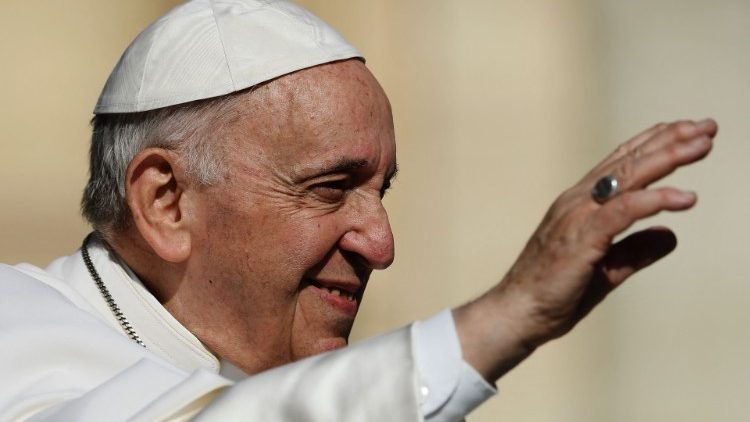 The Pope greets a Pan-Orthodox delegation of priests and monks of the Oriental Autocephalous Churches on Friday, reflecting on the Solemnity of Pentecost and "the full unity to which we aspire."
By Vatican News staff reporter
At the heart of Pope Francis' address to young priests and monks from Oriental Orthodox Churches from different traditions was that of unity.
The Pope told those gathered that it was fitting that their visit was taking place on the eve of the Solemnity of Pentecost, which, according to the Latin calendar, will be celebrated this coming Sunday.
With that in mind, he offered them four brief reflections inspired by this great feast which, he said, "concern the full unity to which we aspire."
Working of the Holy Spirit
His first thought was that unity is a gift, a fire from on high.
Pope Francis noted that unity "is not primarily the result of our commitment, our efforts and our agreements, but of the working of the Holy Spirit, to whom we need to open our hearts in trust, so that he can guide us along the path to full communion. Unity is a grace, unity is a gift," he said.
Harmony
Pentecost also teaches us that "unity is harmony," observed the Pope
"Unity is harmony in the diversity of the charisms bestowed by the Spirit… Harmony is the way of the Spirit, for, as Saint Basil the Great says, he is harmony."
Moving forward
A third teaching of Pentecost, noted the Pope, "is that unity is a journey."
"It is not a plan to be devised or a project to be worked out around a table. Unity does not come about by standing still, but by moving forward with the new energy that the Spirit, from the day of Pentecost, impresses on the disciples," he said.
Pope Francis went on to say that "Unity is attained along the way: it grows by sharing each step of the journey, by facing its joys and struggles, and experiencing its unexpected surprises."
Quoting the words of Saint Irenaeus, whom he recently proclaimed the Doctor of Unity, he said, the Church is "a caravan of brothers".
"In this caravan, unity grows and matures: a unity that – in God's quiet way – does not suddenly appear as an overwhelming miracle, but quietly emerges in the patient and persevering progress of a journey made together."
Unity and mission
Finally, the Pope underlined that unity is for mission. "At Pentecost, the Church was born as a missionary Church. Today too, the world is waiting, however unconsciously, to hear the Gospel message of charity, freedom and peace. It is a message that we are called to bear witness to with one another, not against one another or apart from one another."
In this regard, the Pope expressed his gratitude for the common witness offered by the Oriental Orthodox Churches.
"I think in a special way of all those – and there are so many of them – who sealed by their blood their faith in Christ," he said.
"Thank you for all the seeds of love and hope you have sown in the name of the crucified and risen Christ in all those places that continue, sadly, to be marked by violence and by conflicts that are too often forgotten."