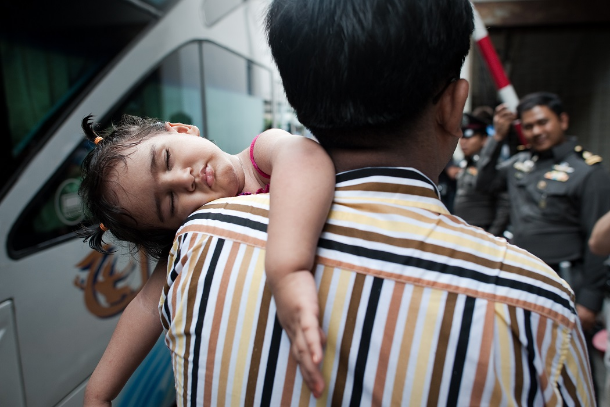 Pakistani Christian asylum seekers are on edge after a stepped-up crackdown on visa over-stayers by Thai immigration authorities continues unabated in Bangkok.
Some 100 Pakistani Christians asylum seekers, including scores of women and children, were detained in an early morning raid Oct. 9 by Thai immigration authorities at a low-rent condominium in Bangkok, according to members of the thousands-strong community contacted by ucanews.com.
The detainees reportedly include several people with refugee status granted to them by the United Nations High Commissioner for Refugees (UNHCR), which should by right give them protection from detention for visa-related violations.
Later in the day, during another raid, this time in Bangkok's outlying district of Min Buri, five Pakistani Christian families — comprising some 20 men, women and children — were also detained.
All the detainees were reportedly taken to Bangkok's notorious Immigration Detention Center (IDC), where hundreds of visa over-stayers languish in overcrowded and squalid prison-like conditions. Detainees at the IDC are often held for long periods until they are released on bail or else deported back to their countries of citizenship.
"We're very scared," a Pakistani Christian asylum seeker, who asked to remain unnamed, told ucanews.com from his hiding place in Bangkok. "The situation is very tense. The kids are especially suffering."
Several families have left their rented apartments in buildings occupied by numerous other families without valid visas, which exposes residents to extra scrutiny by immigration authorities. They are now staying with other members of the community at less conspicuous locations deemed safer.
"We're staying indoors and keeping quiet," said a Christian asylum seeker who is hosting another family from Pakistan. "My heart is racing. I tell my kids to stay calm, but I can barely stay calm myself."
Some others have sought refuge in local churches. "We need a safe haven and this is the only one we can think of," said a young Pakistani Christian, who is seeking shelter in a church in eastern Bangkok with his wife and young son. "We might have to stay here for several days."
Thailand's crackdown on illegal migrants and visa over-stayers has intensified after Police Maj. Gen. Surachet Hakpal, the Thai Immigration Bureau's newly appointed head, promised a zero-tolerance policy, following a call for tougher action by Deputy Prime Minister Gen. Prawit Wongsuwan.
Pakistani Christians are not specifically targeted by Thai immigration authorities. Hundreds of Middle Easterners, Africans and Asians without valid visas have also been detained in recent days. Many of them are facing the prospect of deportation.
On Oct. 5 alone, Tourist Police and Immigration officers arrested a total of 369 foreigners on various visa offences during raids at 337 locations nationwide, including condominiums, hotels and restaurants.
Deputy Prime Minister Prawit, a controversial figure who oversees security matters under the country's current military regime, has said the crackdown was necessary to roll back the operations of transnational criminal syndicates in Thailand, which currently has 1.6 million foreign residents, according to official figures.
Pakistani Christian asylum seekers, who at present number around 2,500 in the predominantly Buddhist nation, insist they aren't criminals or a threat to anyone.
"We're peaceful and don't cause any trouble," a member of the community, now in hiding with relatives, stressed in an interview with ucanews.com. "We're refugees and can't go back to Pakistan."
Pakistani Christian asylum seekers say they have fled endemic discrimination and threats of violence in their homeland.In Muslim-majority Pakistan, where conservative interpretations of Islam are increasingly dominant, the country's 4 million Christians, as well as other religious minorities, are routinely treated as second-class citizens, according to rights groups.The country's draconian blasphemy laws, which prescribe harsh punishments for insulting Islam or Muslims, are often used by local Muslims in personal vendettas against Christians. Numerous Christians have been dispossessed and sentenced to long prison terms or death on trumped-up charges of blasphemy. The lynching of Christians by vigilante mobs on spurious grounds are also common. Several Christians falsely accused of blasphemy now live in Bangkok, where they have fled in fear of their lives. They arrived in Thailand on tourist visas, which have by now long expired. Local authorities regard these asylum seekers as either visa over-stayers or illegal immigrants.Unable to stay or work legally in Thailand, Pakistani Christian asylum seekers spend most of their time in the shadows, doing their best to keep out of sight for fear of being detained by local authorities. They often subsist on money sent by relatives back home or on handouts by local Catholic charities.The renewed crackdown on visa over-stayers has made their situation even more precarious, members of the community stress."None of us are feeling safe," one Christian asylum seeker said. "All we can do is hope and pray."