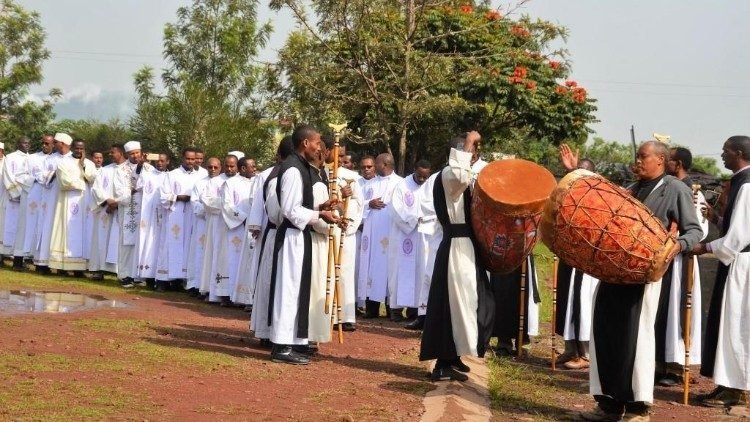 Newly elected AMECEA Chairperson Bishop Charles Kasonde of Solwezi Diocese in Zambia has called for the re-evangelisation of Africa. Speaking exclusively to Vatican News, Bishop Kasonde said the just concluded 19th Plenary Assembly of the Association of Member Episcopal Conferences in Eastern Africa reaffirmed the need for more profound evangelisation in Africa. Paul Samasumo brings more details from Addis Ababa.
Bishops confront paradox
During the week-long Plenary Assembly, the Bishops of the AMECEA region were at a loss about the apparent paradox in most African societies that profess themselves to be Christian. On the one hand, the African continent is ravaged by endemic ethnic conflicts, yet Sunday Mass attendance in most African countries is at an all-time high.
Bishop Kasonde, newly elected AMECEA Chairperson, says that although Churches are packed, there is still work to do regarding "faith issues". He sees re-evangelization as an antidote to doing the same things that have been done in the past.
The re-evangelization they are talking about is to look back and see where we are and count the cost of what we are doing so that we improve consistently on those upheavals—things that degenerate our lives, things that take us back.
Final message
Delivering the Final AMECEA Message and Communique before the Catholic Faithful of Addis Ababa, in the Cathedral of the Nativity of the Blessed Virgin Mary, Bishop Charles Kasonde spoke of the AMECEA Bishops' determination to work towards the search for solutions to some of Africa's thorny problems. Some of these thorny issues include migration and refugees; climate change; challenges to peace and growing insecurity on the continent as well as the need and the urgency and of giving hope to many of Africa's disillusioned young people.
Regarding family and marriage and young people Bishop Kasonde said:
We are cognizant of the fact that the composition of the family as the smallest unit of the Church and society is very important. Another issue that we tackled is that of young people. We are caught up as Africans. And I think because of political instabilities a number of our people are leaving their homes looking for a better environment where they can live as a family and also treasure themselves.
As the Bishops return to their homes and dioceses, they have formed committees and working groups to follow-up on the resolutions.