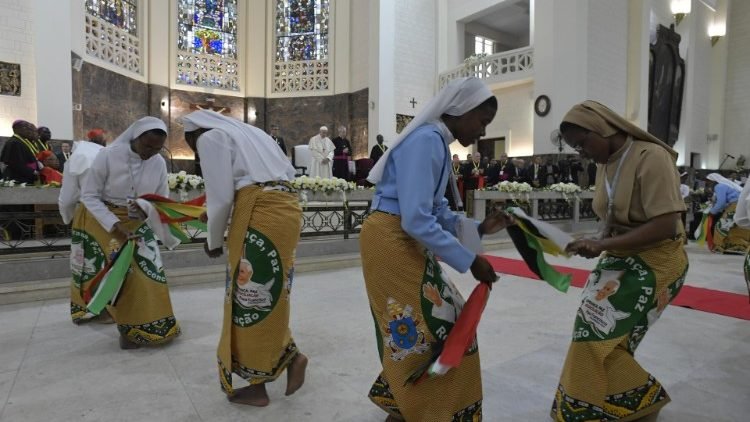 As the Church celebrates World Day for Consecrated Life, Jesuit Father Jules Kipupu, Secretary-General of the Conference of Major Superiors in the DRC, speaks with Vatican News on what this day means.
Donatien Nyembo SJ – Vatican City
Father Jules Kipupu, recently appointed Secretary-General of the Conference of Major Superiors in the Democratic Republic of Congo, explained that it is not a coincidence that this day is celebrated on the feast of the Presentation of the Lord in the Temple. Consecrated persons are invited, on this day, to reflect deeply on their call.
Called to serve a changing world
"Consecrated persons are invited to return to the meaning of their consecration, to reflect on the deep sense of the call that the Lord has addressed to them, on the demands of their lives and to remember the priority of the Kingdom in relation with our world.
World Day for Consecrated Life coincides with the feast of the Presentation of the Lord, which occurs forty days after the birth of Jesus. The feast is also known as Candlemas Day because of the blessing and procession with candles during the Mass.
Pope St. John Paul II in 1997, attached the World Day of Prayer for Consecrated Life to this feast. This is because he wanted consecrated men and women to be the light in the world, imitating Jesus, the Light of the World.
The formation of young persons
Today's consecrated men and women face a host of challenges. Among these is the challenge of formation, especially for young candidates who wish to become consecrated persons.
"Forming young people to acquire solid convictions on the meaning of their call, forming them to a true religious discipline, giving them the culture of a life of prayer in coherence with their daily actions, and also giving them the ability to welcome each other, despite differences (is one of the major challenges facing any formation team today)," said Fr Kipupu.
Evangelising our cultures
In a world marked by violence, injustice, anti-values, fear and rejection of the other, consecrated persons must be true "awakeners." In a world subject to the dictates of social media, consecrated persons must also be present in this field to bear witness to the values of the Kingdom, in discernment with faith and charity," said the Congolese Jesuit.
He continued, "Our cultures too are to be evangelised. Our consecration should lead us to sort out what is good and what is bad in them, to rid them of everything negative," he affirmed.
Pope Francis prays for religious women
In his prayer intention for February, Pope Francis invites the universal Church to pray for religious sisters and consecrated women to continue their mission with courage. The Pope says he wishes for all consecrated women to discern how best they can respond to humanity's challenges.