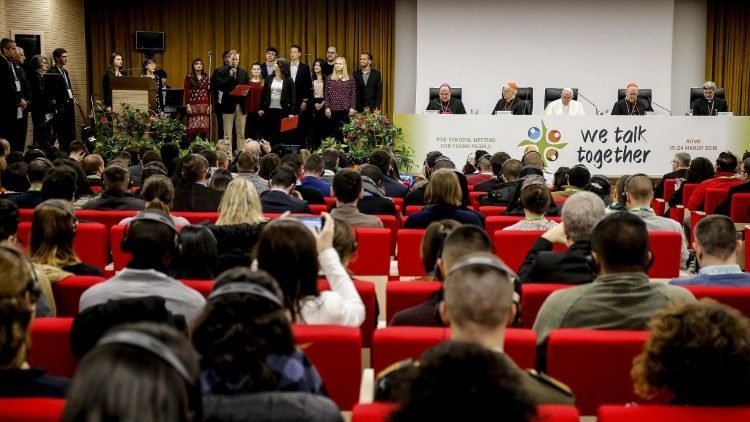 On Wednesday, the Synod of Bishops on Young People, the Faith, and Vocational Discernment begins. Br Javier Hanson, a Brother of the Christian Schools, was chosen by the US Bishops to participate in the first-ever Pre-Synod Meeting in March, in Rome. Br Javier was assigned to an interfaith group at this meeting and spoke about this experience during the Spring General Assembly of the US Bishops Conference in June.
Sharing experiences
Br Javier is pleased that he was placed in a group made up of young people from different religious traditions. He recalls two members of his small group in particular
There was a member from India, a Sikh, and there was also a participant who was from Zimbabwe, who is currently an Anglican minister in England.
From the Sikh, he was impressed on hearing that in order to attract people into their temples, they play music throughout the day
It made me wonder how we as Catholics might consider how our own churches can be made more available as places of refuge and respite for youth and young adults in our communities.
Ecumenism: important part of pre-Synod meeting
The ecumenical efforts of the Church unfolded before Br Javier during the Pre-Synod meeting.
The presence of young people from different religious traditions, even some non-believers, was a critical part of this pre-synod experience.
He now understands that it is important to include ecumenism in teen and young adult ministry in the Church.
Personal reflections
The presence of different religions and non-believers was a specific request of Pope Francis, and one that I was encouraged by.
His experience made Br Javier reflect on two sources he had read in the past: CS Lewis' Mere Christianity, and the Vatican document, Nostrae aetate:
We don't have to believe other religions are simply wrong, but that we are free to think that all religions might contain some element of trut