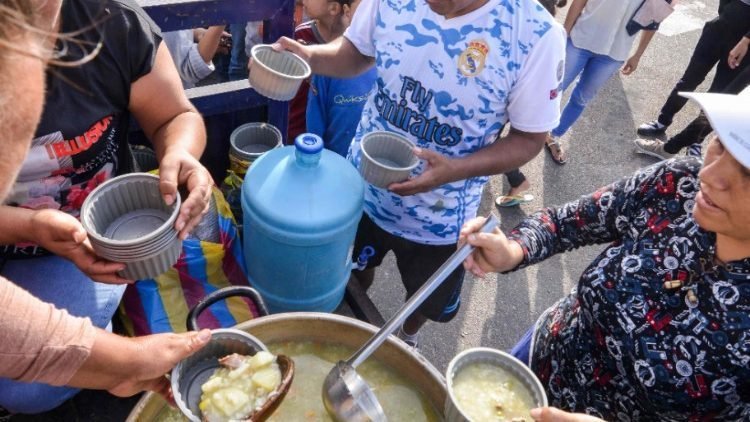 Peruvian Archbishop José Antonio Eguren Anselmi, S.C.V. of Piura recently visited the northern city of Tumbes. Bordering Ecuador, Tumbes marks the place of arrival for Venezuelan migrants who cross Ecuador from their conflict-ridden country to reach hope in Peru.
Over 2,000 of these migrants have been taken in and looked after by 7 parishes in Tumbes. These communities started a new initiative, called "Almuerzo Solidario" (Caring lunch). This initiative, coordinated by Mrs. Aniana Ho, is designed to feed the 2,100 migrants who are now living in the small community.
Treated with love
During Archbishop Eguren's visit, one migrant, who arrived from Venezuela two weeks ago, spoke on behalf of all the Venezuelan migrants who have taken refuge in Tumbes. "Thank you for your patience and for the love with which you treat us", he said. He pledged that the Venezuelan community would continue to do their part, paying them back in any way possible so that the Tumbes community would be able to "carry on helping all those who neither have a job nor a way to survive."
Protected by Our Lady of Coromoto
Peruvian church members handed out images of the Patron saint of Venezuela, Our Lady of Coromoto, to the Venezuelan migrants, so that she would protect them. They then sang the Venezuelan National Anthem, a gesture which made the Venezuelans feel at home, bringing many of them to tears.
Archbishop Eguren urged the institutions and communities of Peru to continue working for this initiative. He invited all people of good-will to continue pursuing their generosity in the Parish of San Nicolas de Tolentino, where all the hard work stems from, including the preparations for the lunches.
A cry of despair
"The large number of migrants who have arrived in Tumbes are the voice of a cry of despair from a country that is appealing to the international community not to give up on Venezuela, and that they make every possible effort to help end the dictatorship that has attacked the most fundamental of its country's rights, placing it in misery." Archbishop Eguren said