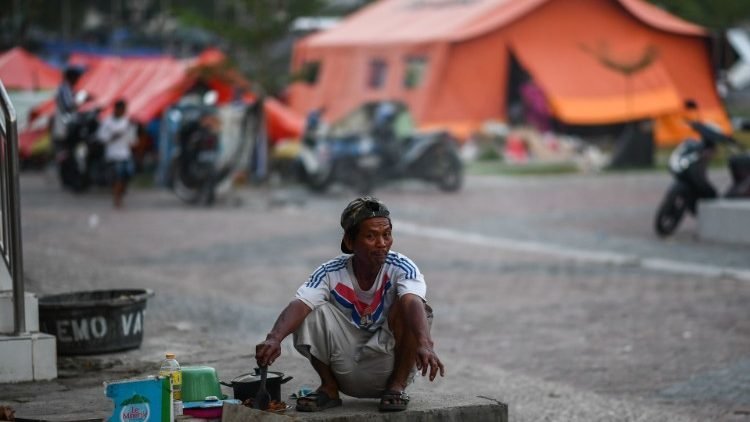 Uncertainty was written large on the faces of people living in tents and shelters on Thursday, 6 days after a powerful earthquake and tsunami hit the Central Sulawesi Province of Indonesia.  1,424 have been confirmed dead and more than 70,000 people have been displaced from their homes since the September 28 disaster.
Relief efforts have been hampered by extensive damage to infrastructure cutting off many remote areas.
Caritas Indonesia, the social arm of the Catholic Bishops' Conference of Indonesia (KWI), has swung into action since the disaster struck the region.   Fr. Banu Kurnianto, the Director of Caritas Indonesia who has arrived in Makassar Archdiocese explained to Vatican News about the Catholic Church's relief efforts.
He said that of the country's 37 dioceses, Manado Diocese and Makassar Archdiocese, that are closest to the disaster region that includes Palu city, were among the first to respond.   Even though Central Sulawesi and Palu come under the jurisdiction of Manado, they are closer to Makassar.  Fr. Kurniantio said both the dioceses are coordinating the Caritas response.
Damaged infrastructure
With essential services such as roads, communication, power and fuel "heavily damaged", Fr. Kurnianto said it is a great challenge to quickly reach the affected areas.   For an effective emergency strategy and response, Caritas Indonesia needs to have a clear picture of the ground situation.   In some places, he said, they are trying to make it on foot.
Fr. Kurnianto said the basic needs of the people are food, water, nutrition, shelter, tarpaulin, blankets and medicine, which Manado and Makassar dioceses are trying to coordinate.
Makassar-Manado partnership
The director of Caritas said that Makassar Archdiocese has assumed the responsibility of procuring relief materials and delivering them to Mamuju city, which is closest to Palu, some 15 hours by road. The Caritas field team in Mamuju will re-package the aid and deliver it to Palu, some 5-hour drive away.
In Palu, Manado Diocese will help in distributing the aid material to the affected areas in and around the city.
Caritas Internationalis
Fr. Kurniato expressed his appreciation to Caritas Internationalis for its solidarity, pledge and willingness to help Caritas Indonesia.  However, he appealed to Caritas Internationalis members not to send their staff and teams as yet, as their safety and security could not be guaranteed until the ground situation improves.