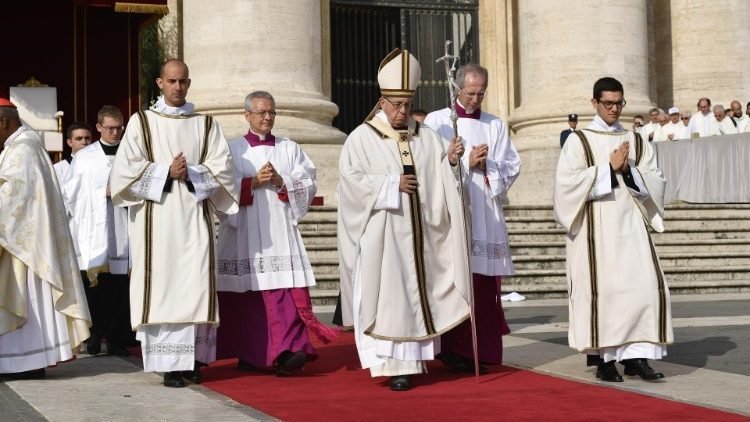 A pope who championed dialogue and mission. An archbishop who was murdered for defending the defenseless. Two priests and two women religious, who dedicated their lives to serving the poorest and most in need. And a layperson who died of bone tuberculosis when he was only 19 years of age.
Examples worth imitating
Paul VI, Oscar Romero, Francesco Spinelli, Vincenzo Romano, Maria Catherine Kasper, Nazaria Ignazia of Saint Teresa of Jesus, and Nuncio Sulprizio. All witnesses to their faith in different ways at different times. All officially recognized by the Church as being worthy of imitation. By formally declaring their sanctity during Mass on Sunday, Pope Francis was acknowledging that their names may be entered in the canon (hence "canonization") of the saints, churches may be built in their honor, altars dedicated, and prayers directed to them as special patrons.
In the words of Pope Francis
Reflecting on the Gospel of Mark for this 28th Sunday in Ordinary Time, Pope Francis stressed the need to be uncompromising in giving ourselves completely to God. "Jesus is radical", said the Pope. "He gives all and He asks all: He gives a love that is total and He asks for an undivided heart". Turning to the newly canonized saints, Pope Francis said that all of them, "in different contexts, put today's word into practice in their lives, without being lukewarm, without calculation, with the passion to risk everything". "May the Lord help us to imitate their example", he concluded.
Signs and symbols
Aside from the gigantic images adorning the façade of St Peter's Basilica, the presence of the new saints was evident in the seven reliquaries that stood to one side of the altar throughout the celebration. But Pope Francis chose three particularly personal elements to demonstrate his closeness to Paul VI and Oscar Romero, especially.
The chalice used by Pope Francis during the Canonization Mass was a favorite of Paul VI. As was the Pastoral Cross which accompanied him on many of his apostolic journeys around the world. And to celebrate Oscar Romero, Pope Francis wore the bloodstained cincture of the slain Archbishop of San Salvador, the one he was wearing when he was shot while celebrating Mass in the Chapel of the Hospital of Divine Providence, on March 24th 1980