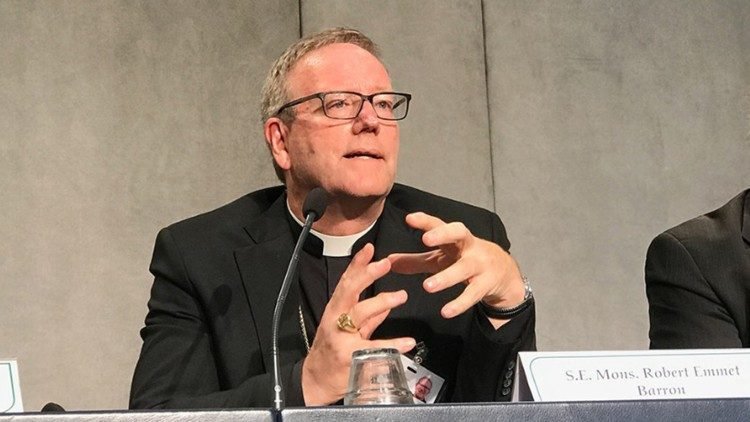 Bishop Robert Barron, auxiliary bishop of Los Angeles, is one of the 266 bishop delegates to the Synod of Bishops on Young People, the Faith and Vocational Discernment.
As part three of the proceedings is already underway, and a "writing group" has been elected and charged with composing the Synod's final document, Bishop Barron speaks of an interesting and enriching experience and of how he has been deeply moved by the testimonies of participants from parts of the world where Christianity is persecuted and oppressed
"The most surprising thing is whenever people from persecuted parts of the Catholic world speak they get a very strong reaction from the Synod hall," Bishop Barron says. He highlighted the fact that the two longest ovations have been for a person from Iraq and one from India where Christians are being actively persecuted.
New perspectives
"It was very interesting and healthy – in a way – to get us out of our first-world preoccupations".
And reflecting on how he is so engaged with social media and the internet, Bishop Barron says that this reality really shone the light on how "in a way all this is secondary to people who are dying for their faith".
"So it has been a great raising of consciousness and broadening of perspective", he says.
The 'nones'
Mentioning the content of his own intervention, Bishop Barron explained that it focused on the importance for the Church to reach out to the so-called 'nones' – those with no religious association or interest.
He explains that this is a huge issue in the US and in the West and that one of his fears is that "a lot of our language and the strategies we are proposing are going to miss the nones".
"These are people who are not going to come to our institutions; they are not going to come to our parishes and our programmes", he says.
These are people, Barron continues, who are not looking for spiritual direction: "These are people who say 'I 'don't believe in God, I think Jesus Christ is an old myth, that the Church is corrupt, that religion causes violence. These are things I hear all the time from the nones".
But, he adds, these are people the Church has a duty to reach out to and "through God's Providence we have the means to do so: social media!"
Reaching the existential peripheries
"I love the fact that I can do a video or a presentation and it goes way beyond the confines of the Church. And I know that because you hear back from people", he says.
And even if many of the comments are negative, Bishop Barron says, it is still positive because it means that these media are "getting us out to the existential peripheries" and once you get that contact, you've got some traction and you can engage with people.
"We have the means to reach out to the nones", he says.
Barron is also adamant that if you are careful you do not risk diminishing the content on social media, and says that he hates "dumbed-down" Catholicism which, he says, has been "a pastoral disaster in the West".
I believe, he concludes, "you can be rich in content and reach out on social media"!