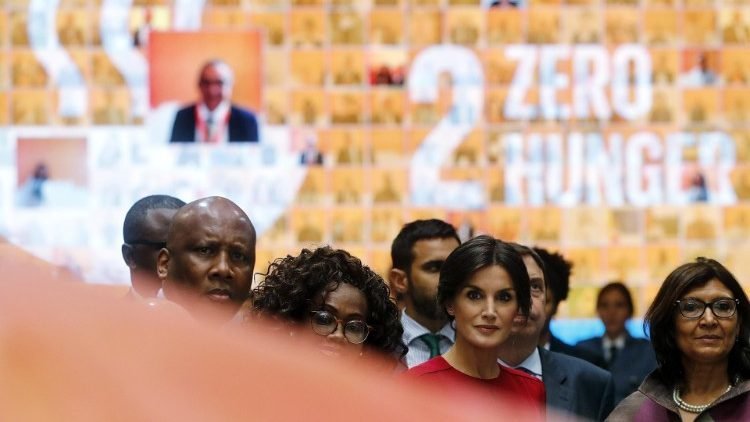 World Food Day is celebrated every year across the globe on 16 October, commemorating the day that the United Nations Food and Agriculture Organization (FAO) was founded in 1945.
Established by the FAO in November 1979, the annual day is observed widely by many other organizations concerned with food security, including the World Food Programme (WFP) and the International Fund for Agricultural Development (IFAD).
The theme of this year's observance was "Our actions are our future. A #ZeroHunger world by 2030 is possible".
The observance revealed many startling facts and figures regarding the state of food, hunger and malnutrition in the world today.
Food waste
– WFP Executive Director David Beasley: rich nations waste $750 billion of food each year, double the amount needed to end global hunger, said on October 16.
– FAO: about a third of the world's food is lost or thrown away each year, approximately 1.3 billion tonnes, worth nearly $1 trillion.
– If current trends continue, food waste will rise to 2.1 billion tonnes annually by 2030.
– UN: almost half of all fruits, vegetables, roots and tubers produced are wasted.
– Some 821 million people around the world were hungry in 2017.
– Every year, consumers in rich countries waste almost as much food – 222 million tonnes – as the entire net food production of sub-Saharan Africa – 230 million tonnes.
– In developing countries, 40 percent of losses occur post-harvest or during processing, while in industrialized countries more than 40 percent of losses happen at retail and consumer levels.
– Food waste squanders land and water used to produce it, and also releases methane, a greenhouse gas, when left to rot.
– U.S. consumers waste nearly 1 lb (454 grams) of food per person each day – the equivalent of four portions of chicken or a pint of blueberries.
– In Europe, 88 million tonnes of food are wasted annually at a cost of 143 billion euros ($177 billion).
– In Britain, 15 billion pounds ($19.7 billion) worth of edible food is binned every year, including the equivalent of 3 million glasses of milk.  (Compiled by Thomson Reuters)
Hunger, malnutrition
– The world produces enough food to feed everyone, yet one person in nine suffers from chronic hunger.
– An estimated 815 million people suffered from chronic hunger in 2016, according to FAO figures.
– Roughly 60 percent of the world's hungry are women.
– About 80 percent of the world's extreme poor live in rural areas. Most of them depend on agriculture.
– Hunger kills more people every year than malaria, tuberculosis and AIDS combined.
– Around 45 percent of infant deaths are related to malnutrition.  Stunting still affects 155 million children under the age of five years.
– 1.9 billion people – more than a quarter of the world's population – are overweight. 600 million of these are obese and 3.4 million people die each year due to overweight.
– In many countries more people die from obesity than from homicides.
– Malnutrition costs the global economy the equivalent of USD 3.5 trillion a year.
– FAO estimates that agricultural production must rise by about 60 percent by 2050 in order to feed a larger and generally richer population.  (Source: FAO)