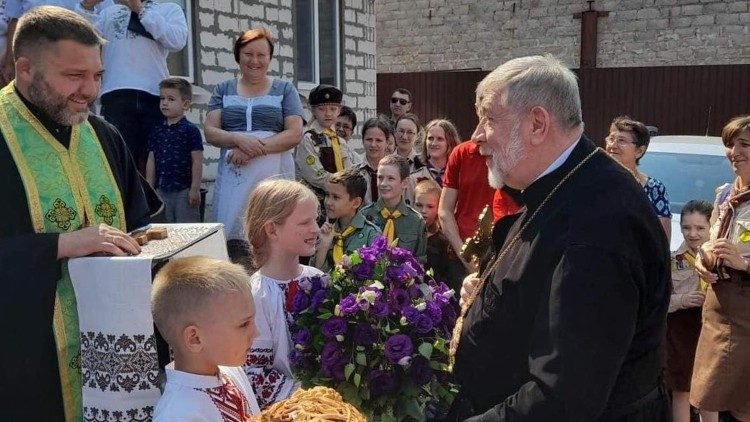 Bishop Stepan Meniok, the Ukrainian Greek Catholic Exarch of Donetsk, asks Christians to pray for people suffering under Russia's brutal bombardments in the eastern Donbas region, saying priests are staying with their people despite the ongoing war.
By Svitlana Dukhovych
The Donetsk Exarchate of the Ukrainian Greek Catholic Church covers the territory of Ukraine's eastern regions of Donetsk, Zaporizhzhia, Dnipro, and Luhansk.
Some of these territories were occupied back in 2014 when Russian-backed separatists declared themselves independent republics. Other parts have fallen under Russian control since the invasion on 24 February. The current frontlines of the war crisscross the area.
Bishop Stepan Meniok, Archiepiscopal Exarch of Donets'k-Kharkiv, spoke to Vatican News about the role Catholic priests are playing in their parishes and daily life, despite the dangers they face.
Bishop's forced relocation
Bishop Meniok was ordained bishop 20 years ago, in February 2002, after being appointed Exarch of Donetsk-Kharkiv.
In April 2014, his territory was split in two, and he presided over that of Donetsk. War broke out in the Donbas that same month.
At that time, the bishop was visiting the Marian shrine of Zarvanytsia in western Ukraine.
As he was on his way back to Donetsk, he learned that his home had been occupied by separatists, so he could no longer return, and he remained in Zaporizhzhia, where he still resides and carries out his ministry of leading the Exarchate.
Priests remained in their parishes
"There are four of our priests left in Donetsk, and they continue to serve there," says Bishop Meniok. "There is also one in Luhansk. They have retained possession of the parishes, and people are coming, even though more than half of the population has left the region. Before 24 February these priests could go back and forth; however, now they cannot leave their parishes so they stay to serve."
Since Russia's full-scale invasion began, the Donetsk Exarchate has been affected again. The priest serving in Mariupol barely managed to escape.
"We recently lost three more parishes. The priests had to leave those in Kreminna, which is already occupied by the Russian military, in Severodonetsk, where violent fighting is ongoing, and in Lysychansk, which is under the control of the Ukrainian army," the Exarch says, adding that "the war tactics of the Russian army are very fierce: first they bomb and destroy towns or villages, killing civilians, and then they advance."
"Danger persists in all parts of the Exarchate. Yet, the priests, who total 53, continue to serve in their communities," he explains.
Bishop Meniok at Divine Liturgy
"I have grown fond of these people."
Bishop Stepan Meniok was born in the Lviv region in western Ukraine.
"Although I have the mentality of Western Ukrainians, I love these people. I asked to be sent to eastern Ukraine," he says, "because I am a missionary; I am a Redemptorist, and our charism is to go to the people who are most abandoned. These people have very good and open hearts. Sometimes we founded parishes from scratch, and at the beginning, there were only 10 people. Already after one or two years, the whole church was full of people. This phenomenon is very interesting."
Help for refugees
The bishop says humanitarian aid arrives in Zaporizhzhia from all parts of the world, and is distributed day and night by local Caritas centers and Basilian nuns (of the order of St. Basil the Great) to the needy, especially refugees.
Caritas Mariupol has also relocated to Zaporizhzhia after their headquarters were shelled in mid-March. Seven people lost their lives, including two members of Caritas staff.
Caritas Mariupol cares for refugees from its home city, which was taken by the Russian army.
Christian hope for the future
"Our attitude toward those who have invaded us must be Christian: like that toward the children of God, who have lost their way. They, too, are the image of God, however tarnished by sins and false information they may be. Our prayers can open their eyes to the truth," says Bishop Meniok.
"I hope that God will allow me to return to Donetsk," the bishop confides, "and I already know that during my first sermon I will not be able to utter a word but only weep. Truth must overcome lies and evil. It has never been otherwise."
Bishop Meniok at Divine Liturgy