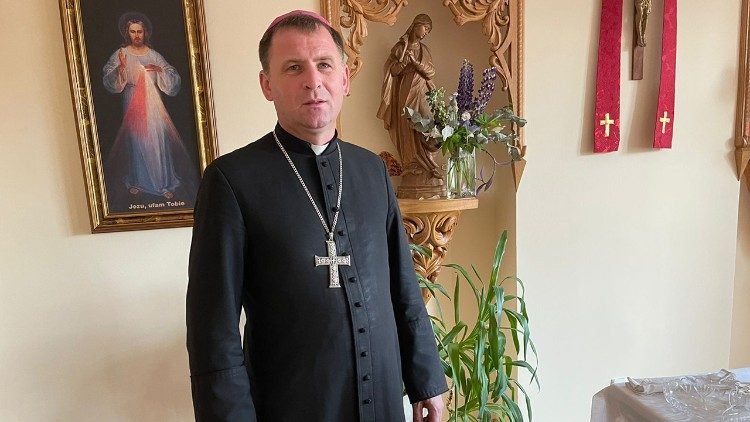 Bishop Pavlo Honcharuk, who has served as a military chaplain and is familiar with the suffering caused by war, leads Ukraine's Diocese of Kharkiv, and describes how Ukrainians are dealing with the Russian invasion and the resulting material needs and the need for comfort: "Sometimes all it takes is a hug and a reminder that the Lord is near."
By Svitlana Dukhovic
"My diocese is very large, covering a territory of 196,000 square kilometers, much already occupied by Russian troops," says Bishop Pavlo Honcharuk of the Latin Rite Diocese of Kharkiv-Zaporizhia, crossed in many parts by the front line.
The area includes seven of Ukraine's twenty-five regions. The diocesan curia is located in Kharkiv and the co-cathedral is in Zaporizhia, where Auxiliary Bishop Jan Sobilo resides, two key cities in the conflict that has continued since its start over 100 days ago.
"Our priests are not in the occupied areas," the Bishop explains, "while for those in the areas that are not occupied the most important mission is to be present with people, to reach out to them and pray with them. This is the service they expect from the Church."
Humanitarian situation and outreach
"In the areas where there is fighting," Bishop Honcharuk told Vatican News, "the humanitarian situation is tragic because it is very dangerous to go there and bring food or medicine. Your life is at risk, and so very few people manage to get there."
In places a little further from the front line, even only 10-20 km away, people are a little better off, such as in Kharkiv, where many have returned lately.
"There are already many people in the city," he says, "but the problem is that many have lost their homes. So many are out of work: some businesses have been completely destroyed, even markets, where residents used to work, have been burned or damaged. Many people don't even have money to buy bread, and they need clothes, shoes, food, medicine and shelter. They also need understanding and support. So much help is needed."
Various humanitarian organizations and the Church are assisting these people. The Kharkiv-Zaporizhia diocese does this thanks to aid coming from Poland and parishes in western Ukraine. Food, medicine and much more are distributed through the diocesan Caritas. Many volunteers arrive to lend a hand and bring supplies to those in need in neighboring villages as well. The local police also participate with officers distributing aid from Caritas and bringing it directly to the homes of those in greatest need.
Familiarity in dealing with war
At 44 years of age, Bishop Pavlo Honcharuk is among the youngest Catholic bishops in the world. He was appointed Bishop of Kharkiv-Zaporizhia in January 2020. Two years after his ordination, a full-scale war began in Ukraine.
His pastoral service before becoming a bishop included service as a military chaplain. "That experience certainly helps me now," he underscores, "because when the fighting started, the explosions and all else, the shock was not so strong that it derailed me. I could carry out my duties normally, make decisions and serve people, so I did not need a process of adapting to the new situation, where there are threats, explosions, and where death is very close. All this I had experienced before as a chaplain."
The same experience also taught the Bishop how to communicate with the military, very present in the Kharkiv region. "There are so many people here who are under stress," he continues, "and as a chaplain I learned how to help them: what to pay attention to, what to say, when to talk, and when to simply hug them…. I learned what I had to do and, most importantly, what not to do, because you can help a lot by not doing the wrong things. Therefore, I think God in his Providence somehow prepared me for this."
Facing the difficult questions
Given the great suffering and pain, many questions arise in the war, many also addressed to God.
"From my experience in talking to people," confides Bishop Honcharuk, "I can say that when a person believes strongly in God and has a relationship with Him, the questions of 'Why? Whose fault is it? Are we such great sinners? Are there other sinners as well … Where is God? Those who have faith understand where the cause lies: it is sin, and man through sin allows the power of darkness to gain access. When we do evil, we allow the devil to come and take our lives. Faith in God provides a solid foundation that helps us bear the heavy burden of injustice and survive not only during war, but in life in general. And we can witness here together with the priests our faith in God, the presence of God, where it is very, very necessary, this gives us strength to withstand any strike. We cannot explain everything and even an explanation would not reduce the burden. But when God gives strength to my heart, then this burden can be borne."
Bishop Honcharuk says that sometimes people still come up to him with those questions. In these cases, he says, it takes listening and compassion. Someone perhaps has lost a loved one, someone has seen or experienced terrible things.
"Sometimes you just have to embrace this person, let them cry, let them vent, because there is so much pain," the Bishop continues. "And I address these words to them: 'The Lord is beside you, now you can turn to Him, He will embrace you, He will give you strength…' And here usually a miracle happens: the person starts crying and then says, 'Thank you, I feel better.' So in these situations it is difficult to look for theological explanations and so forth, because the pain is very great. But the Lord is very close to us and embraces us, you just have to sense and recognize this presence of God."
Fear and the will to live
When asked, "Are you afraid?" the young Bishop of Kharkiv-Zaporizha replies, "Of course I am. There is fear, there is so much danger, but there is a full awareness of my mission, responsibilities and tasks. We stay here and continue to work and serve others. The military is also afraid, but they have to defend."
Everyone wants to live, he says, regardless of whether they are older or younger. Everyone is experiencing the same threat, experiencing the same suffering, each in their own way, each with a different level of psychological resilience.
On 31 May, Pope Francis presided at a Rosary for peace at the Basilica of St. Mary Major, in Rome, with faithful around the world participating, including the Ukrainian community in Rome. This prayer, as well as the Pope Francis' gestures and words expressing his closeness with the suffering people were greatly appreciated both by Catholics and by all the people in Ukraine.
"The prayer of the universal Church," says Bishop Pavlo Honcharuk, "is the prayer of Jesus Christ. Through prayer we come closer to God and God becomes closer to us, that is, we are more immersed in Him, and in Him is everything we need. So the awareness of the fact that the whole Church prays invites us to realize that we are involved in something very big, that is, the richness that is contained in the mystical body of Jesus Christ. He is here, we are not alone, He is near and the whole Church is praying. This is unity. It is difficult for me to find the right words to express this, but this support increases the faith that eventually allows God to give the grace that gives strength, peace, strong inner courage. The meaning of this universal prayer of the Church is so very deep."