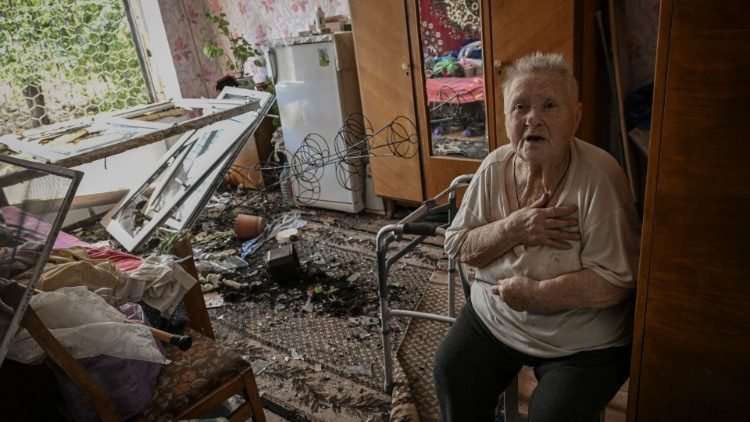 Ukraine says it has recaptured part of the territory lost to Russian forces, as the Russian invasion, now going on for just over 100 days, seems far from over.
By Stefan J. Bos
After setbacks, Ukrainian authorities claim to have recaptured parts of the key eastern city of Severodonetsk. But at the same time, the city remains the target of relentless Russian shelling.
Previously, the governor of the Luhansk area to which the city belongs, Serhiy Haidai, had said 70 percent of Severodonetsk had fallen to Russia.
And for the people living in chaotic, dirty bomb shelters without access to enough food and medicine, the fighting could not end soon enough.
"We are asking for peace, peace, peace, for this to be resolved as soon as possible," a woman said as she showed reporters her bomb shelter. "Soon, it will be three months like this. It is tough. I don't know how long we can last. We have no medicines left and a lot of sick people here," she explained, fighting back the tears.
British defense sources say Moscow is increasing air strikes in the eastern Donbas region – the focus of its fight as it is here where many ethnic Russian people live and Ukraine's industrial heartland.
Transport plane hit
Moscow also claims that Russian troops shot down a Ukrainian military transport plane near the Black Sea port of Odessa and hit an artillery training center in the Sumy region in a missile strike.
While those reports have not been confirmed yet by Kyiv, Ukrainian President Volodymyr Zelensky has acknowledged that Russian forces control roughly a fifth of the country.
But Zelensky said the country did "what seemed impossible" by resisting "the second army of the world."
He told his nation that "The second army of the world, at first, looked threatening. Then it was dangerous. After the [massacres] in Bucha [outside Kyiv], that army caused disgust. And now, only a bitter smile. Because what's left of it of the army which was called 'the second army of the world'?" Zelensky wondered.
"War crimes, disgrace, and hatred," the president added.
Yet, while he claims Ukrainian forces stood up against Russia, the war, now lasting more than 100 days, seems far from over.