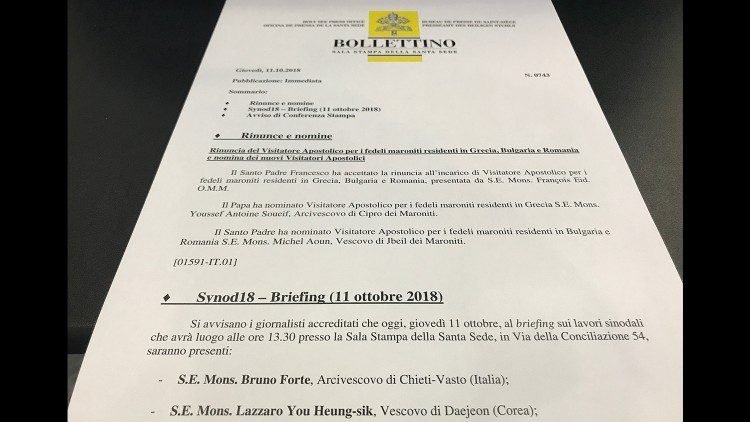 Dr Paolo Ruffini, the Prefect of the Vatican Dicastery for Communications, said that discussions in the Synod assembly continued in a serene and cheerful manner with lots of joyful interactions between the bishops and young people. He said that there was an emphasis on the fact that charity mustn't just be preached but also seen in action. He told journalists that one young person told the Synod Fathers that thousands of young people looked towards them for something concrete from the Synod, they trusted the Fathers would meet their hopes. Dr Ruffini also said that an intervention about secularisation urged the bishops to see this not only as a negative move but one that frees religion from a connection to national identities. It challenges the Church to a more mature faith.
Digital World
Dr Ruffini said that although the digital world is a great development and facilitates the exchange of information it also has boundaries. The danger of manipulation and a culture of violence is very real in both images and writing. The Church must help bring humanity back to the digital world.
Archbishop Bruno Forte of Italy said that the Synod assembly recognised that there are many young people who are lonely, not engaging in the reality of relationships, but rather seeking them online. The Synod assembly pondered how the Church reaches these young people who are alone in the dark in front of their computers which, he said, threatens to swallow them.
Fear and Loneliness
Archbishop Forte sketched two profiles of young people that he felt emerged from the discussions. First, some young people who have a wealth of hopes and wishes for the future, especially those who are fleeing political and economic situations. The second are those in the West who, he says, are more fearful and lonely. He says that this arises from the digital world but also because there is a disconnect with their past and with older generations. An inter-generational disconnect causes a memory loss and so young people have no roots.
An auditor from India, Mr Percival Holt, noted that even in the Synod there was a struggle for some of the bishops to understand young people because of the generation gap. He said that they were trying to do this and that it was important to continue dialoguing. The Church and young people must make the journey together patiently, he added.
Bishop Lazzaro You Heung-sik from South Korea noted that he met some fearful young people too. They were fearful of the sacrifices and the impact on their lifestyles if there was a reunification between North and South Korea. He said that he believes that this is not the majority of young people though because many see the benefits of such a move.
Korea
Speaking about the situation in Korea, Bishop Heung-sik said that until last year many believed that there would be a war between North and South Korea. This has now changed. He ascribes this to the Olympic games saying that the event helped to establish a relationship between the two. He says that he believes that North Korea is ready to begin opening up. He says that the South Korean leader, Moon Jae-in, told his North Korean counterpart, Kim Jong-un, that the best way for the country to get back into the international community was by inviting Pope Francis to visit. If the Pope visits this would be a giant step forward for peace on the Korean Peninsula. The Bishop cautioned that lots of work still has to be done and change will be necessary – he specifically mentioned North Korea ensuring religious freedom. He said that by listening and gathering opinions, especially those of young people, the Church can assist move things forward and in so doing create a climate of cooperation.