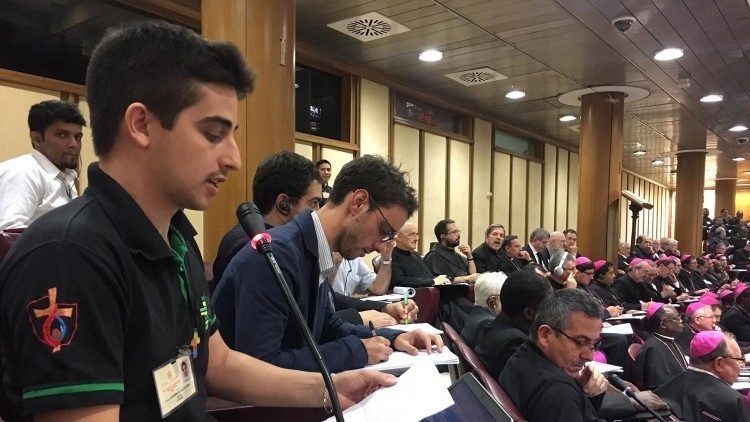 The Synod of Bishops on young people currently in session in the Vatican has set up a Commission to write a message for the young people of the world.
In a communique on Thursday, the Holy See's Press Office said that during the 15th General Congregation of the Synod of Bishops, Wednesday afternoon, some Synod Fathers proposed a letter from the Synod to the young people from all over the world.
The theme of the October 3-28 Synod is, "Young People, the Faith and Vocational Discernment."
With the approval of Pope Francis, the Synod has set up an 8-member Commission to draft the letter, the contents of which will be subsequently submitted to the Synod Assembly for consideration.
The Commission is composed of the following who represent the various geographical regions of the world:
Synod Fathers:
1. Cardinal Dieudonné Nzapalainga, C.S.Sp., Archbishop of Bangui (Central African Republic)
2. Auxiliary Bishop Emmanuel Gobilliard of Lyon (France)
3. Archbishop Anthony Colin Fisher, O.P., of Sydney (Australia)
4. Bishop Eduardo Horacio García of San Justo (Argentina)
Young Auditors:
5. Ms. Briana Regina Santiago of the Apostles of the Interior Life (USA)
6. Mrs. Anastasia Indrawan, member of the Commission for Youth of the Bishop's Conference of Indonesia (Indonesia)
Special envoy :
7. Father Alois, Prior of the Taizé Ecumenical Community (France)
Expert:
8. Father Michele Falabretti, the head of the Youth Ministry of the Italian Episcopal Conference (Italy)