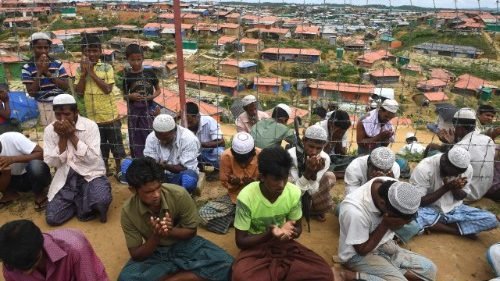 "The gravest crimes under international law", this is how the UN describes the human rights violations committed in Rakhine State. Myanmar military began instigating violence upon Rohingya people in Myanmar, just over a year ago. Since then almost one million men, women and children have fled the country seeking refuge in bordering Bangladesh. Noor Alom is one of them. He fled Myanmar just ten days ago with his wife
Harrassment
"I had no income" he says. He was not allowed to move "downtown to another area", he was stuck in a village in which he was not recognised, a village in which he was not allowed to work. "I feared starvation" he says. With incessant controls at checkpoints stationed everywhere, his movements instigated questions: "Do you have approval?", "Do you have a document", "Where are you going?". According to Noor, the government is doing nothing to support them. "Extremists will attack again and again" he says.
Statelessness
Higher education has not been accessible for Rohingya people since 2012, when, according to the UN report, their enrolment at Sittwe University was prohibited. Three years later Rohingya people's right to vote was revoked. Prior to the 2017 "clearance operations", the UN report quotes a Rohingya saying "My Rakhine neighbour warned me: 'you cannot stay here and we cannot control the bad behavior of our own people. The government is planning to drive away your people.'"
Myanmar, a predominantly Buddhist country, does not recognise Rohingyas as people, calling them "Bangladeshi immigrants", a term which legitimizes the systematic erasure of the Rohingya as an identity.
A crisis far from being over
Despite Myanmar's government consistently saying that its operations only target militant or insurgent threats,  the UN report has defined the Rohingya refugee crisisas a "Human rights catastrophe", and considers it to be the "fastest growing refugee crisis", one which is far from being over.
One year after the attempts to remove Rohingyas from Myanmar's Rakhine State commenced, the UN have investigated whether this military coordination can be considered a genocide, defined as "the murder of a whole group of people, especially a whole nation, race or religious group". Their answer: yes. The UN now says that Myanmar military leaders must face charges for genocide and crimes against humanity