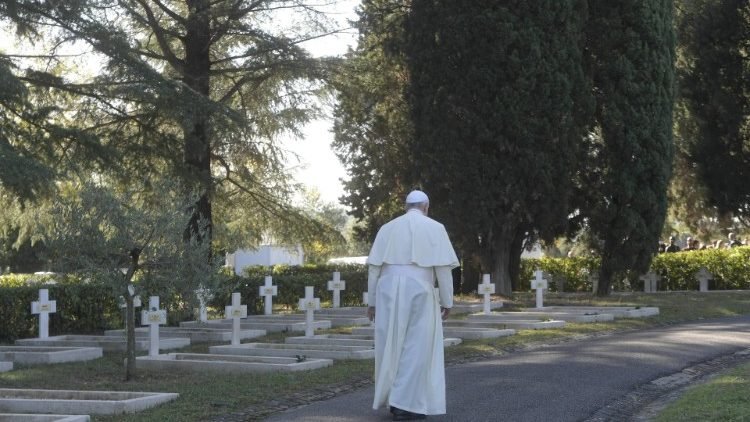 This phrase from the Bible, is taken from the Book of Sirach. The Pope recalled it during one of his Angelus addresses and it seems ever more relevant today, in the face of the words of hatred that we hear, and in the face of the risk of a widening war in Ukraine. Indifference to hatred endangers humanity resulting in so many victims of forgotten wars in the world.
By Sergio Centofanti
When words of hate increase, the risk that they will become acts of violence grows, if they have not already become weapons that kill and destroy. In a world already wounded by so many conflicts and so much indifference to those who suffer, the danger becomes greater for all when words of hate multiply. Those with important decision-making powers can push the wrong buttons if they are filled with that anger fanned by inflammatory words. All mankind risks more if words of hatred are uttered by the powerful of this world.
Against resentment
"Remember your last days and set enmity aside" (Sir 28:6). This was written about 2,200 years ago by a Jew from Jerusalem, Yehoshua ben Sira. The Pope pointed this out during the Angelus on September 13, 2020:
"Today, in the morning, as I was celebrating Mass, I paused, touched by a phrase in the first Reading from the book of Sirach. The phrase says, "Remember the end of your life, and cease from enmity". A beautiful phrase! Think of the end! Think that you will be in a coffin… and will you take hatred there? Think of the end, stop hating! Stop the resentment. Let's think of this phrase that is very touching. Remember the end of your life, and cease from enmity."
"Remember death and decay," Sirach continues, "do not be angry with your neighbor"… Forgive your neighbor the wrong done to you; then when you pray, your own sins will be forgiven."
Forgotten Syria
For more than 11 years there has been fighting in Syria, resulting in about half a million deaths and more than 11 million refugees and displaced persons.
Cardinal Mario Zenari, the nuncio to Damascus, says with sorrow: we have been forgotten, "hope has gone from the hearts of so many people, and in particular from the hearts of young people, who see no future in their country and seek to emigrate." There is hunger: "There is a shortage of bread and now, with the war in Ukraine, also of flour."
In these years of war, perhaps two-thirds of Christians have left Syria: "In these conflicts, minority groups are the weakest link in the chain." And now there is oblivion: "This," he observes, "is another great misfortune that has happened to Syria: falling into obscurity. This obscurity is hurting people a lot."
Hunger and war in Ethiopia
Cardinal Berhaneyesus Souraphiel, Archbishop of Addis Ababa, talks about war and hunger in Ethiopia. He notes that "Millions of Ethiopians are in desperate need of humanitarian assistance". Who remembers them?
Myanmar's Calvary
In Myanmar "we are still on Calvary," says Cardinal Charles Maung Bo, archbishop of Yangon, with a military regime attacking churches and thousands of Burmese refugees wandering in the forest. No one is spared by the collapse of the economy: more than half the population is reduced to poverty. Young people feel deprived of their future.
In this way of the cross," he says, "the deep faith of the people is striking … As Christians, we find hope in the profound mystery of the folly of the cross."
Yemen, periphery of the world
Bishop Paul Hinder, the emeritus Apostolic Vicar of Southern Arabia, speaks about Yemen's forgotten war, where a humanitarian emergency is causing millions to starve and more than 2 million children are at risk due to hunger.
"These forgotten wars," he says, "are of little interest. Yemen is really at the periphery for many parts of the world."
We could all live in peace
These are just a few forgotten wars. Wars often begin with words of hate. "Today we must say it clearly," Pope Francis said, "there are so many sowers of hatred in the world, who destroy" because "The tongue is a fearsome weapon, it kills," while instead "we could live in peace like brothers and sisters"