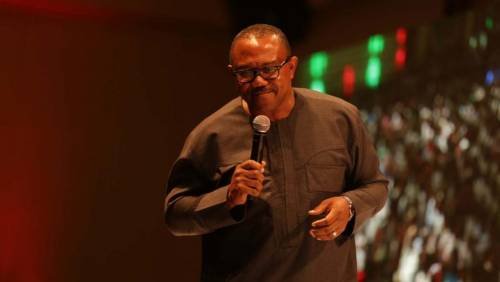 Peter Gregory Obi fondly, called 'OKWUTE' meaning 'ROCK', was born in Onitsha on July 19, 1961. He is a native of Agulu in Anaocha Local Government Area of Anambra State. He had his secondary education at Christ the King Onitsha, before proceeding to the University Of Nigeria, Nsukka where he earned a B.A in Philosophy in 1984.
His academic odyssey also took him outside the shores of Nigeria to Ivy league and Oxbridge schools. He attended Harvard Business School, Boston, USA; London School of Economics (Financial  Management/Business Policy) Columbia Business School New York, USA (Marketing Management); Institute for Management and Development, Switzerland, Kellogg Graduate School of Management, USA, Oxford University and Cambridge.
His Life Before Politics
Though his name became a household name when he entered the political space of Nigeria, Obi had always been an astute businessman. He held several managerial positions in different firms and companies. Chief among these companies are Guardian Express Bank Plc, Next International Nigeria Limited, Future View Securities. He holds the record as the youngest Chairman of Fidelity Plc.
His Political Career
His foray into the Nigerian political terrain came in 2003 when he contested on the platform of All Progressives Grand Alliance (APGA) for the governorship of Anambra State. His main contender for the post was Chris Ngige of the Peoples Democratic Party (PDP). Ngige was however declared winner of the election. In a bid to reclaim his mandate, Peter Obi made a recourse to legal actions.
After three years of fierce litigation, Ngige's election as Governor was overturned by the Court of Appeal on March 15, 2006 and Peter Obi was sworn in as Governor of Anambra State on March 17, 2006. However, no sooner was he sworn in than he was impeached as the Governor, leaving his deputy, Virginia Etiaba, to take over as Governor. He challenged his impeachment again in court and won. He was reinstated as Governor of Anambra by the court of Appeal on February 9, 2007.
In 2007, there was a general election in the country, which brought in Andy Uba of the Peoples Democratic Party as Governor of Anambra State. Peter Obi again went to court and after a heated  legal battle, the highest court in Nigeria, the Supreme Court, upheld his contention that the election he won in 2003 only started to 'run' when he took over in March 2006 after the legal battle  with Chris Ngige. This landmark decision of the Supreme Court made Anambra set the precedent of being the first state in the country to run a different election calendar.
Andy Uba's mandate was nullified and Peter Obi resumed as Governor to complete his administration in March 2010. In 2010, he contested and this time around his opponent was Professor Charles Soludo, former Governor of the Central Bank Of Nigeria, and he won. When his tenure came to an end in March 2014, he was succeeded by Willie Obaino, his former classmate and collegue at Fidelity Bank.
Peter Obi is happily married to Margaret Browson Usen and their union is blessed with two children Gabriella Nwamaka Frances Obi and Gregory Peter Oseloka Obi.