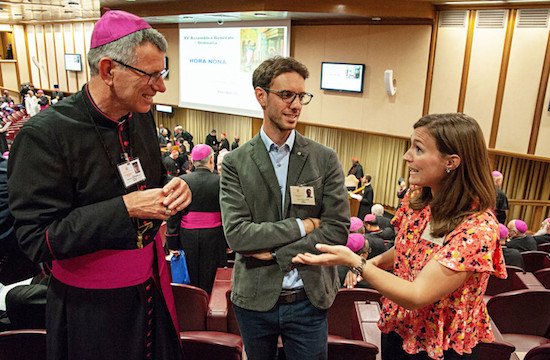 Pope Francis received a white envelope bearing the concerns of young people at a youth-focused Synod in Rome on Oct. 6, and warned them about the dangers of populist ideologies that exclude others.
He signed arm casts and spent more than an hour presiding over songs, dances and testimonials while accepting attendees' complaints about the Church and the problems society is facing, laststamp.it reports.
"Populism is the culture of the people that is expressed in art, in science, in celebration: every people celebrates in its own way. But populism is the opposite: it is a model of closure," it quoted him as saying.
The pope also heard stories of suffering, rehabilitated lives, and reborn faith from people aged 20-30 at the General Secretariat of the Synod and the Congregation for Catholic Education.
While praising the benefits of greater connectivity he also drew attention to the social downside of the digital era, where young people are addicted to virtual communities, social media and smartphones at the cost of "real relationships."
He encouraged them to "recover and strengthen their roots" by engaging in dialogue with older people and devoting more quality time to their families.
"Talk to your grandparents, talk to the elderly, this will make you happy," he said. "They are the roots of your concreteness, of your growing, blooming and bearing fruit."
"Everything that the tree has in bloom comes from what is buried in the ground," he added, attributing the wisdom to a poet not himself.
Francis also lamented the recent failings of the Church as manifested by some clerics' secular activity – a reference to the ever-widening sex abuse scandal enveloping the Church.
He urged young people to "follow the path of the Beatitudes not that of worldliness, of clericalism, one of the ugliest perversions of the Church."