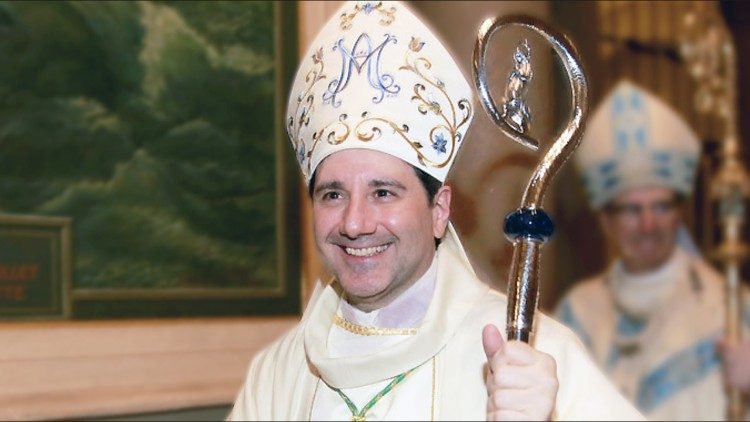 The Holy Father has appointed Bishop Frank Leo, until now titular of Tamada and auxiliary of the archdiocese of Montréal, as metropolitan archbishop of Toronto, Canada.
Pope Francis has named Bishop Frank Leo to succeed Thomas Cardinal Collins as Archbishop of Toronto, Canada's largest Catholic diocese. The Cardinal, whose resignation from the pastoral care of the Archdiocese was accepted by the Holy Father, turned 76 in January.
Bishop Leo, the new Archbishop-elect, has been serving as an auxiliary in the Archdiocese of Montreal.
Curriculum vitae
Archbishop-elect Frank Leo was born on 30 June 1971 in Montréal, Canada. After his secondary studies, he obtained a diploma in social sciences. He was awarded a baccalaureate in philosophy from the Institut de Formation Théologique de Montréal (IFTM), affiliated to the Pontifical Lateran University in Rome, and subsequently a licentiate and a doctorate in theology, with a specialization in Marian studies, at the International Marian Research Institute (IMRI), affiliated to the Marianum in the University of Dayton, Ohio.
He was ordained a priest on 14 December 1996 for the archdiocese of Montréal.
He has held the following offices: deputy parish priest of Notre-Dame-de-la-Consolata (1996-2001); administrator of the parish of Saint-Joseph-de-Rivière-des-Prairies (2003-2005); chaplain of the Roscelli School and teacher of religion at the Collège Reine-Marie (2003-2005); parish priest of Saint-Raymond-de-Peñafort (2005-2006).
From 2006 to 2008 he was sent to the Pontifical Ecclesiastical Academy in Rome, and attended courses in canon law and philosophy, obtaining a licentiate in historical-critical philosophy. He entered the diplomatic service of the Holy See, serving first in the apostolic nunciature of Australia (2008-2011), and then at the Holy See Study Mission in Hong Kong (2011-2012).
He returned to Montréal in 2012, and was appointed as director and teacher of dogmatics in the Major Seminary, director of the Department of Canon Law of the IFTM and vice president of the diocesan vocations service. From 2013 to 2015 he was a member of the presbyteral council. In 2013 he founded the Canadian Mariological Society, of which he is president.
From 2015 to 2021 he was secretary general of the Canadian Conference of Catholic Bishops. In 2021 he was appointed as vicar general and moderator of the archdiocesan Curia of Montréal.
On 16 July 2022, he was appointed titular bishop of Tamada and auxiliary of Montréal, and was consecrated the following 12 September.
Archdiocese of Toronto
The Archdiocese of Toronto is the largest diocese in Canada, with some two million Catholics representing almost a third of the total population.
It is also "one of the most diverse faith communities in North America," with Mass celebrated in more than 30 languages each week at 225 parishes.