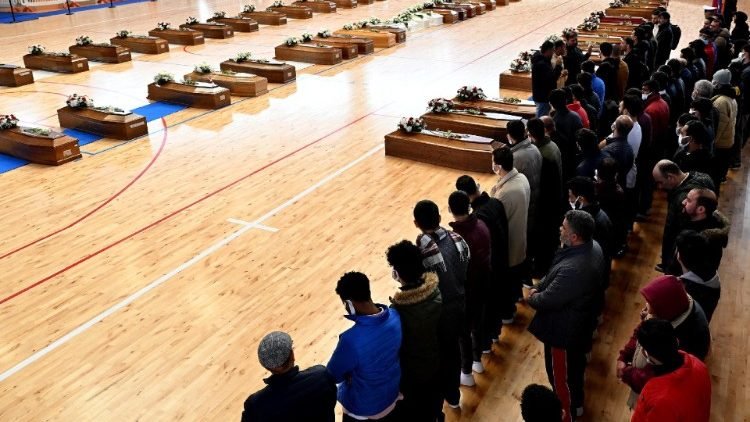 Pope Francis expresses his sorrow for a recent migrant tragedy in the southern Italian town of Cutro, which killed at least 70 people, including 16 minors.
By Devin Watkins
"May human traffickers be stopped, and may they not continue to throw away the lives of so many innocent people!"
Pope Francis made that heartfelt appeal for the victims of a recent migrant tragedy on the Mediterranean, as he spoke to pilgrims gathered for the Angelus prayer on Sunday.
At least 70 people died last Sunday when their flimsy boat broke apart on a shoal off the coast of the southern town of Cutro, in Italy's Calabria region.
The boat had set out from Turkey a few days earlier with around 170 passengers aboard.
Appeal to stop human trafficking
The Pope expressed his sorrow for the tragedy, and prayed for the victims, their families, and those who survived the shipwreck.
"I express my appreciation and gratitude to local residents and institutions for their solidarity and welcome for these brothers and sisters of ours. I renew my appeal that such tragedies not be repeated."

Pope Francis condemned the role of human traffickers in contributing to such tragedies, saying they "throw away the lives of so many innocent people."

"May these voyages of hope never again turn into voyages of death," he said.

He also prayed that God might give everyone the "strength to understand and mourn."

"May the clear waters of the Mediterranean never again be bloodied by such tragic accidents!"