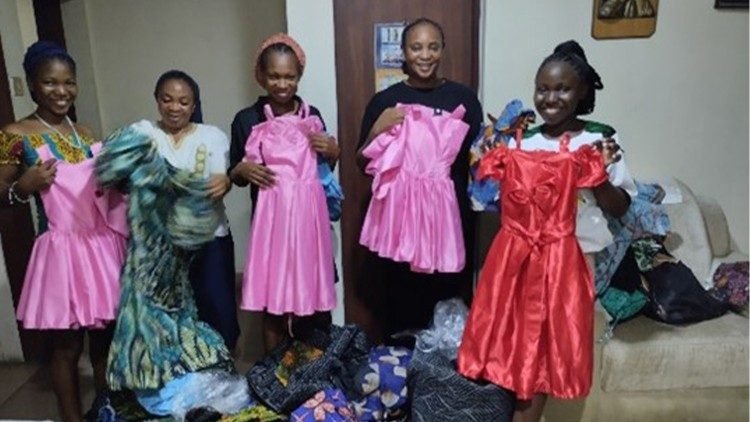 An institution overseen by the Nigeria Conference of Women Religious to combat human trafficking in Nigeria has fully reintegrated more than 300 victims with small scale businesses set up to help them improve their livelihood.
By Sr. Titilayo Aduloju, SSMA
The Committee for the Support of the Dignity of Women (COSUDOW) grew out of the need to respond to the continuous human trafficking that has become rampant across Nigeria and Africa.
In 1999, some executive members of the Nigeria Conference of Women Religious (NCWR) travelled to Europe to ascertain the reality of young girls that were taken abroad to engage in prostitution.
The NCWR felt a strong need to fight for and liberate the victims of trafficking from their shackles and established the committee for the support of the dignity of women.
Sr. Philomina Okwu, DC, the Coordinator of COSUDOW, and Sr. Theresa Anosike, DC, the programme Officer and Shelter Manager, spoke with Vatican News about the organizations' objectives, achievements, and challenges.
Srs. Philomena Okwu and Theresa Anozike, DC, during an interview with the Vatican News
Aims of establishing COSUDOW
Sr. Okwu said COSUDOW was set up "to educate the general public on the hazards of people leaving their homeland, to travel for greener pastures unprepared, and then the problem they encounter on the way."
"Awareness is created to help people understand what is happening so that they will not fall victim to this," she said.
Sr. Okwu also said that, since the victims of human trafficking are traumatized, the committee seeks to help heal these traumatized young girls.
"COSUDOW helps these women who have returned," she said. "Some have also come back on their own, some have been repatriated and battered, traumatized, whichever way, whether voluntarily or forced to return."
"We also provide them with skills, vocational skills, so that they can become self-reliant, maybe buoyant, maybe rich, and therefore deviate from human trafficking," said Sr. Okwu.
Rehabilitating victims of trafficking
Sr. Anosike, the programme officer, said COSUDOW provides shelter for victims who were afraid and ashamed of going back home, for 3 to 6 months.
"Within this time, we provide some of them with counselling, spiritual direction, and psychotherapy, to enable them to regain their self-dignity or self-worth," said Sr. Anosike. "And once they have regained their self-worth, we also provide them with vocational training," she added.
The project also trains them based on their areas of interest. "Some would like to do hairdressing, some fashion and designing, some catering management, and also hotel management," she said.
After the training, "we buy equipment and give them, open shops and pay the rents, in order to help them to be self-reliant, before reconciling them with their families," said Sr. Anosike,
For over 25 years, COSUDOW has rescued and rehabilitated many victims of trafficking from Europe, not only Nigerians but also victims from Libya, Ghana, Mali, Burkina Faso, and elsewhere.
According to Sr. Anosike, "we have also rescued more than 30 potential migrants that wanted to travel, by telling them the danger inherent in it."
Some victims showing their certificates after complection of their training
Listen to the full interview
A victim narrates her experience
Camilia Ebele (not her real name), a victim of human trafficking, recalled how she was trafficked to Ghana alongside her friends between 2019 and 2020.
"It was a very terrible story though, but I want to share my story with you so others can learn from it," she stressed.
According to Ebele, a lady she had never met came to her with a promise of a job outside Nigeria where she was learning a trade. She also promised to take her to Italy and pay for her travel documents and flights.
After proof of conviction, "I agreed to follow her to Italy and I was very happy," she said, I also discussed it with my friends and they were happy to go with me," she added.
Even though her aunt was against the move, the lady warned her to keep it to herself and kept enticing the young woman with money.
"That was how we kept following her around keeping her company till one night she asked us to enter a vehicle with her, till we finally landed in Ghana," she recalled.
When asked about the job promised, the lady said, "Don't worry. I want you people to relax, rest, and don't be in a haste," Ebele said. "Just enjoy yourself, feel free, and be comfortable with this area first before you start to work," she added.
After that, the lady started being aggressive to them and threatened to kill them if they refused to do her bidding.
The lady also told them, "You know, you don't know anybody here, you know no place." The lady continued, "I can do with you whatever I wish now because I'm the owner of your life now."
Ebele lamented, "This was how she used us to do prostitution work ever since that night."
"That was how she enslaved us, keeping us at home and at night, gave us out to some men, and she collected the money," she added.
"We did this for months until they were able to escape and came to COSUDOW who sheltered us, rehabilitated and trained us," she concluded.
Cakes baked by the rehabilitated victim
Despite many challenges, including inadequate financial resources, evasive traffickers and victims unwilling to leave prostitution, COSUDOW continues to focus on victims' protection, prevention, prosecution, rehabilitation, and family-friendly cases, concluded Sr. Okwu.
Sr Philomena Okwu, DC, the COSUDOW Coordinator