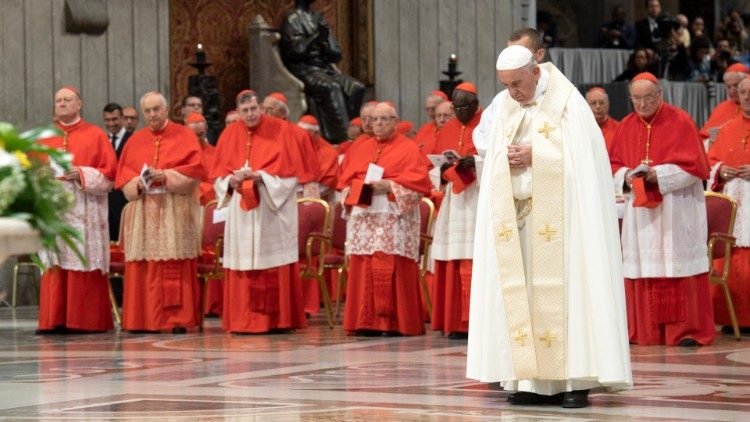 Reaction from the clerics Pope Francis has chosen to collaborate with him as Cardinals is beginning to come in. As Vatican News becomes aware of their reactions, we will continue to post them here.
Archbishop Wilton Gregory
Cardinal-elect Wilton Gregory released the following statement on the news from the Vatican this morning:
"With a very grateful and humble heart, I thank Pope Francis for this appointment which will allow me to work more closely with him in caring for Christ's Church."
Archbishop Gregory is originally from Chicago and was Archbishop of Atlanta, GA prior to being appointed as the Archbishop of the nation's capital in May 2019. He is the first African-American to be elevated to the College of Cardinals.
Father Mauro Gambetti, OFM Conv
The spokesperson for the Sacro Convent in Assisi, Father Enzo Fortunato, released the reaction of Cardinal-elect Father Mauro Gambetti, the monastery's Guardian. This is one of the "Pope's jokes", were the first words he said after learning of his elevation. The statement continued saying:
"I gratefully and joyfully welcome this news in the spirit of obedience to the Church and in service to all humanity in this time that is so difficult for all of us. I entrust my path to St Francis and make my own his words about fraternity. This is a gift I will share with all of God's children on the path of love and compassion toward the neighbor, our brother or sister."
Archbishop Silvano Tomasi
Archbishop Tomasi stated: "I am totally surprised and I am grateful to the Pope for thinking of me." He continued saying it is an honor not only for himself but also for his community, the Scalabrinian fathers and is a recognition of the diplomatic service he carried out on the Holy See's behalf.
"It's a combination of elements that converge in this recognition. I feel very grateful to the Holy Father, Pope Francis, and I think this recognition demands a further commitment to the service of the Church and of the Holy See."
Monsignore Enrico Feroci, Pastor of the Shrine of Our Lady of Divine Love
Msgr Feroci says he found out he had been elevated to the College of Cardinals at 12:20 just as he was preparing to celebrate the 12:30 Mass. He said people were congratulating him and he had no idea what they were referring to. He interprets the Pope's appointment not directed solely to him personally, but "to all the priests of Rome". He continued saying that the priest is the one who "gives his hands to the Bishops in order to touch the Body of Christ which is the People of God. Therefore, Pope Francis wanted to thank the hands of so many priests". Msgr Feroci also said he has not yet been able to speak with or thank Pope Francis, but he hopes to do that soon.