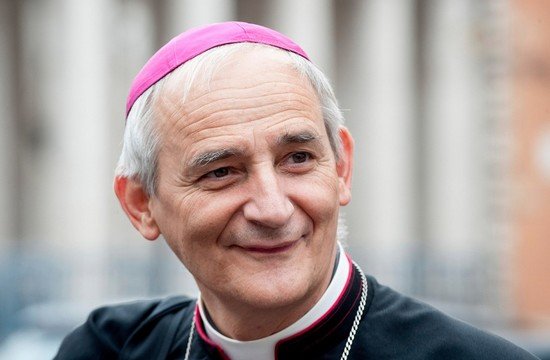 The 32nd "People and Religion" conference organized by the Community of Sant'Egidio concluded in Bologna on Oct. 16. La Croix editor-in-chief Guillaume Goubert talks to Archbishop Matteo Zuppi of Bologna, a longstanding pillar of the community. The Italian archbishop discusses peace initiatives organized by the Community of Sant'Egidio, its significance, particularly in the wake of the rise in populism in Italy and across Europe.
What significance does it have for Bologna to host the interreligious prayer for peace meeting organized by the Community of Sant'Egidio?
Archbishop Matteo Zuppi: Bologna, which is the location of Europe's oldest university, has always been a center for reflection on the mystery of what makes up people's lives.
Religions play an integral part in this, which is so fundamental that they can easily find a role in the tradition of cultural dialogue that is part of our city.
We have such a great need for culture! Religions without culture more easily become prey to ideologies or fundamentalism.
This year's meeting was entitled "Ponti di pace" or bridges of peace. Are we not living in a period where people are building many more walls than bridges?
Walls are the fruit of fear. When people are afraid, they instinctively turn inwards. But fear can also be an instrument for raising consciousness.
Walls can never be a solution. They complicate solutions. They give a false sense of security.
Instead of this, we need to develop genuine links and direct relationships.
Doesn't building bridges create a risk of losing one's own identity, which is a strong fear in Europe at present?
It is closing in that it threatens identity. Not opening up. Identity without others is a weak identity. In reality, genuine identity is relational and understands how to dialogue with others.
Will the 'spirit of Assisi' continue to develop? Or have these annual interreligious meetings become a kind of club with a barely evolving membership?
That risks is always present. However, the spirit of Assisi has also borne so much fruit! Things that appeared impossible have become easier and increasingly evident.
It is similar with bridges. When they do not exist, it seems impossible to move from one place to another.
When they are there, we realize the extent to which they are indispensable.
And when they unfortunately collapse, as happened in Genoa, everything stops and becomes much more complicated.
We need to dream of bridges as well as build and then maintain them.
What is the message from these meetings to the Italian government and its leading light, Matteo Salvini?
The message is for everyone because peace is for everyone. Our country looks at the past with difficulty and fear.
It is only when we appreciate how to look at the future that we are able to find solutions to the problems of the present.
We discussed receiving and hosting people, immigration, humanitarian corridors. We reflected on so much suffering, particularly that of countries affected by war.
That can help us to better understand the requests that we receive, even though they may disturb us.
The European elections are approaching. Populist parties are hoping for success. What are the key issues in your view?
Europe is clearly going through a difficult period. But it is inconceivable to go back to the past.
On the contrary, we need to make Europe work better. Strong will is needed.
This could come from consciousness of the suffering of war that twice ravaged Europe during the 20th century. However, the real answer to war is a united Europe. Nationalism wants to dissolve Europe, which is in reality our nation.
We need to go beyond borders not create new ones. Europe is a heritage that we cannot allow ourselves to lose