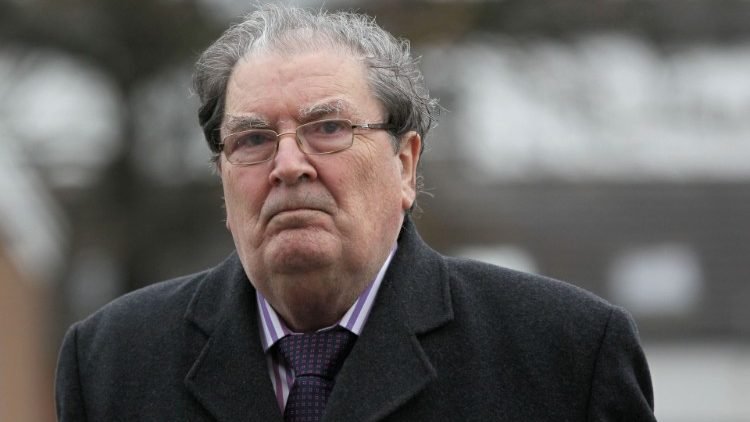 John Hume, Northern Ireland political leader and 1998 Nobel Peace Prize winner for his work on the Good Friday Agreement died on Sunday at the age of 83
By Vatican News
John Hume, prominent Northern Ireland Catholic politician and Nobel Peace Prize winner died on Sunday aged 83.
Born on 18 January 1937, John Hume served as one of the highest-profile politicians in Northern Ireland. He was a founding member of the Social Democratic and Labour Party (SDLP) in 1970 and led the party from 1979 until 2001.
Hume was one of the key figures in creating the foundations of the peace agreement signed on Good Friday 1998 which put an end to decades of sectarian violence across Ireland.
Later that year, he was awarded the Nobel Peace Prize in recognition for his "efforts to find a peaceful solution to the conflict in Northern Ireland" according to the Nobel Committee.
Tributes from Bishops
Tributes have flooded in from several religious authorities in Ireland, lauding John Hume for his contribution towards peace in the country.
Bishop Noel Treanor of the Diocese of Down and Connor expressed his condolences to Mr. Hume's wife, Patricia, and his wider family. He said that Mr. Hume was "motivated by a strong personal faith" and was "a champion of Human Rights."
"John Hume uniquely shaped a new and prophetic political narrative which enabled the decommissioning and disarmament of weapons and generated an infrastructure for a peace process that led to the Good Friday Agreement, and the foundations of a new politics that is his lasting legacy," Bishop Treanor said.
Likewise, Archbishop Eamon Martin of Armagh remembered Mr. Hume as "a paragon of peace, a giant of a statesman whose legacy of unstinting service to the Common Good is internationally acclaimed."
Archbishop Martin also said John Hume was "a man of vision whose dreams were challenging but always achievable." Hume also put Catholic Social Teaching into practice, working ceaselessly for "a process of reconciliation through which the dignity of every human person is recognized and upheld."
Bishop Donal McKeown of Derry lauded John Hume as "one of the greatest peacemakers and champions of social justice of our time," adding that his name has become a "byword for dedication to the cause of peace."
Bishop McKeown also said that Mr. Hume dedicated himself to his work on the world stage but generated hope for his local community. For that reason, "he will be remembered as one of the great local and world figures of his generation."
Celebration of Light for Peace
In a statement issued on the website of the Irish Bishops' Conference on Monday, Father Paul Farren, Administrator of the Cathedral of Saint Eugene in Derry met with the Hume family who expressed their concern that a public gathering for the funeral might put people's "health at risk in the context of the current Covid-19 pandemic."
Father Farren said that the family are asking that "people express their grief by staying at home and joining with the Hume family in a 'Celebration of Light for Peace.'"
"Instead of lining roads and streets to show respect to John, it is the wish of the Hume family that we remain at home and, at 9:00 pm, light a candle and join with the family to pray the Prayer for Peace of Saint Francis of Assisi in the presence of John's body in the Cathedral."
This "Celebration of Light for Peace," he continued, "is a fitting tribute to a much loved and distinguished Irishman."
Father Farren also conveyed gratitude on behalf of the family for "the outpouring of love and support following the death of their beloved John."