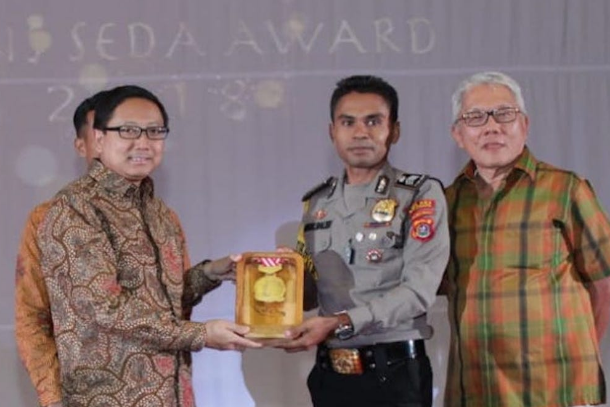 After receiving the Frans Seda Award from Atma Jaya Catholic University in Jakarta for building a school for fishermen's children in Sulawesi, police officer Muhamad Saleh said his conscience would not allow him to sit by and watch scores of children drop out of the education system.Saleh, 34, who hails from Bombana district in Indonesia's Sulawesi province, said too many kids from Tunas Baru village were getting filtered out of the system due to the long commute to the closest schools.Children aged 6-8 from the village, about a four-hour drive from the provincial capital of Kendari, previously had to walk five kilometers to class every day, often barefoot.The journey was not just long but potentially dangerous, as they had to trek through rice fields, muddy streets and forested areas, he said.In many cases their families decided it was safer to keep them at home, he added, as there was no one to chaperone them.
The parents, mostly fisherman, spend their nights fishing to earn a basic livelihood and sleep during the day."Many people in the village can't read or write because they never finished elementary school," said Saleh, a father of three.Indonesia's Education and Culture Ministry said that about 300,000 elementary school students a year drop out of the system. Most of them come from remote villages like this.Saleh decided to help out by using his salary to build a school for them closer to home. He called it Anak Soleh, which translates in English as Faithful Child."It's my calling to save these young people by making sure they get a shot at a good education," he said.With the support of the local government, as well as parents and other members of the community in Bombana, he built the school on a 2,000-square-meter plot of land.The first class opened in 2015 with 11 students but the school has since expanded to four classrooms catering to 41 children from grades one to three. They are mentored by three teachers including Saleh's wife.He said the couple take the hour-long trip from their home by motorbike every day to teach at the school"I also help out and use some of my policeman's salary to make sure they have everything they need," he said, adding that he often engages with the local community to encourage more parents to send their children there."I'm just glad we don't have any more kids dropping out of school at the village now," Saleh said.His commitment to ensuring they receive an education drew the attention of the Jakarta-based university, which handed him the award on Oct. 26.Saleh also received 50 million rupiah (about US$3,500), which he said would be put to good use buying books and uniforms."Receiving this award encourages me to continue my efforts to help educate children in remote areas," Saleh said. "I hope it inspires others to do the same."The accolade is named after university founder Franciscus Xaverius Seda, a former cabinet member under Sukarno and Suharto who passed away in 2009.It has been handed out biannually since 2011 to individuals, groups or organizations for their contributions to education and other humanitarian endeavors.
Source of inspiration"Saleh's concern and commitment for education deserves appreciation," university rector Agustinus Prasetiantoko said in explaining why the policeman was chosen.Maria Rahayu, 21, who attends the university, described Saleh as a role model and a source of inspiration."We have to get out of our comfort zone in the city and reach out to other people who are facing problems getting an education in remote areas," she said.Jesuit Father Paulus Wiryono Priyotamtama, who led the jury panel that picked the award recipient, said previous winners have come from hard-hit areas including Aceh province on Sumatra Island, and Papua.Aceh was struck by a 6.5-magnitude earthquake in December 2016 that killed over 100 people and left more than 1,000 injured, 12 years after a massive quake and tsunami devastated the region.Financial Minister Sri Mulyani Indarwati, who was present at the award ceremony last month, said it "encourages young Indonesians to care more for other people."She said the education budget would be increased by 10 percent from US$2.9 billion in 2018 to $3.2 billion in 2019, one of a raft of new measures to improve the education system and further extend its reach.