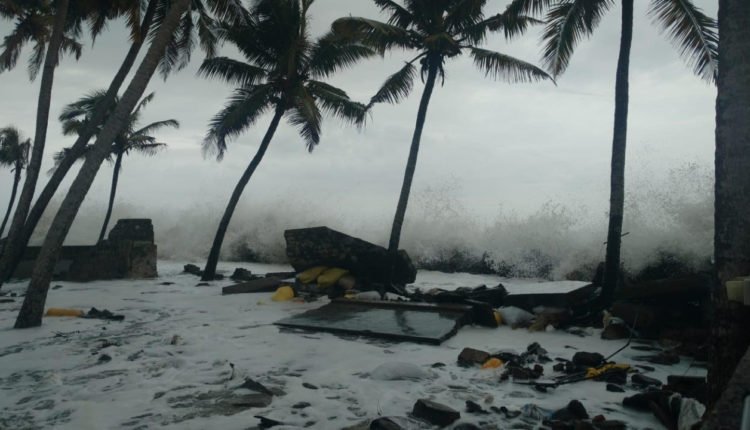 Torrential rains, overflowing rivers, landslides and bridge collapses have resulted in the death of at least 75 people in southern India's Kerala state, where the monsoon has turned out to be the worst in almost a century.
India's Catholic bishops have expressed their "profound grief and sorrow at the unprecedented floods" in southern India's Kerala state that is "causing heavy loss of lives and damage to crops, houses, cattle and property."   "We share the anguish of the people affected by this huge natural disaster and we wish to express our closeness to them," said the Catholic Bishops Conference of India (CBCI) in a press release on August 15, India's independence day.
Worst floods in almost a century
Torrential rains, overflowing rivers, landslides and bridge collapses have resulted in the death of at least 70 people in the state in what is regarded as the worst rain and floods since 1924.  An estimated  75,000 people are in relief camps.
Kochi airport, Kochi Metro and Southern Railways have suspended their operations.  While Kerala is bracing for more rains in the coming days, water in various dams continue to rise to dangerous levels.
Heavy rains and winds that are likely to continue until Saturday,  forced state authorities to release excess water from dozens of damns, causing floods downstream that have submerged vast areas in 12 out of 14 districts in the state.
The bishops' press release, signed by CBCI secretary general Bishop Theodore Mascarenhas, expressed appreciation for the "quick and efficient relief work" by local and state and union government authorities.
Prime Minister Narendra Modi on Thursday spoke to Kerala Chief Minister Pinarayi Vijayan and asked the defence ministry to accelerate relief and rescue operations across the state.
"The Catholic Church condoles the death of our brothers and sisters who were caught unaware as nature's fury took hold of large parts of Kerala. We express our solidarity with the injured and the suffering," the bishops wrote.
Caritas operations
The bishops also commended the efforts of Caritas India, the Catholic Church's charity arm, that is working at the grassroots levels through the local bishops, clergy, religious sisters and lay volunteers to aid the affected people.
Church schools and institutions have been open to the displaced, and food, clothes and other relief materials are being distributed to those affected.  The bishops stated that Caritas is extending help to all regardless of faith or class, and have called on all people of good will across the country and elsewhere to lend a helping hand.
India's Catholic bishops also expressed its "ardent desire" to cooperater with the government and all like-minded agencies to provide relief and help in all possible ways to the suffering people.