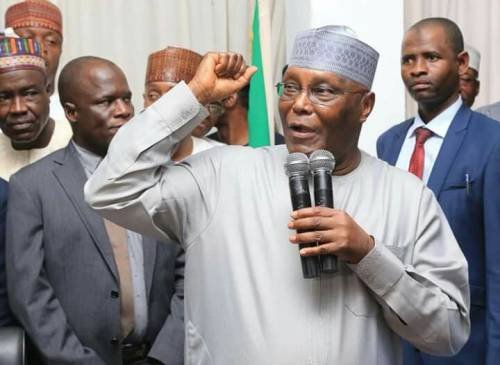 tiku Abubakar, presidential candidate of the Peoples Democratic Party (PDP), will get a running mate from the South-West — although there is a "very strong case" for the South-East — SaharaReporters has been told.
Wednesday is the deadline set by the Independent National Electoral Commission (INEC) for parties to submit the names of their presidential candidates and their running mates, meaning a series of meetings have been going on since Sunday when Atiku overwhelmingly beat Sokoto State Governor, Aminu Tambuwal, to get the PDP ticket.
A source privy to some of the ongoing meetings told Saharareporters that despite the appeal of the South-East, there are three very important reasons why the decision-makers are already leaning towards the South-West.
These are a strong desire to get someone to play the 'Osinbajo role' for Atiku, the need to accommodate the South-West in the national structure, and the electoral value of the region ahead of 2019.
"The whole focus is definitely between South-West and South-East. A lot of dynamics come to play, because the Vice Presidency is not strictly a political position," said the source, who requested not to be named.
"So, what they are looking at are the sentiments that the vice presidential candidate can drive for the joint ticket. To a large extent, they are looking at South-East, of course; and I can confirm to you that the South-East has a strong case. But the major consideration delaying the announcement is that a lot of stakeholders feel that the position should go to South-West. And they've been giving lots of reasons for that.
"First, during the Goodluck Jonathan administration, PDP marginalised the region to a large extent. Anyim Pius Anyim (South-East) was the SGF, Namadi Sambo (North-West) was the Vice President, David Mark (North-Central) was the Senate President. There was no south-westerner in the top five offices in the country. It was one of what Buhari used in campaigning against Jonathan in 2015, that the South-West was not regarded in the scheme of things.
"Also, the South-West has the second-highest number of registered voters, so we should be able to do something for that region in order to get their support.
"They are also looking at the Osinbajo factor as well. Osinbajo comes across as a technocrat, somebody who is intelligent, very smart — and he is from South-West. So if we are trying to get the votes of South-West in 2019, the question they will ask is: 'What do you have for us, because APC is giving us the VP.'
"To you and me, it doesn't make sense — because we know that, to a large extent, where you come from does not really have a direct impact on the people's yearnings. Having Osinbajo in government was a factor for Tinubu; when the cabal was moving against him, trying to short-change him, Osinbajo was the one standing for him in the presidency. So, to a large extent, the party hierarchy feel that if they have someone like that occupying the number-two position, they will be able to push the South-West agenda from the presidency; and they have someone they can hold responsible if Atiku does not deliver his restructuring programme. So, that's the argument from the South-West over the past 24 hours, and the decision-makers are already considering it."