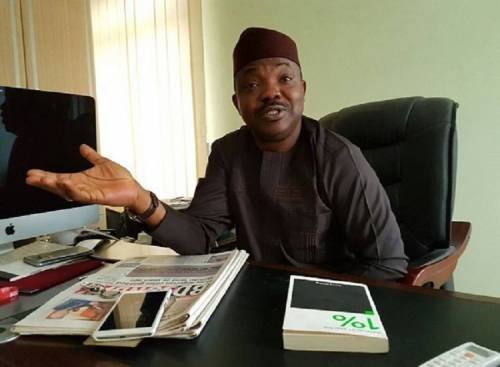 Members of the Pan Yoruba Socio-cultural group, Afenifere, on Tuesday held a closed-door meeting with former President Olusegun Obasanjo in Abeokuta, the Ogun State cpaital, over the 2019 polls.
At the end of the meeting, which started late in the afternoon and lasted more than two hours, Yinka Odumakin, spokesman of the group, told journalists that the meeting was about the choice of leadership for the country in 2019.
He also said the group was in no doubt about whom to back ahead of the elections, as "the most important thing to the Afenifere group is the issue of restructuring".
Atiku Abubakar of the Peoples Democratic Party (PDP) is the presidential candidate whose campaign has been built around restructuring — he notably had a newspaper exchange of opinions on the matter with Vice President Yemi Osinbajo — suggesting that Afenifere may indeed have revealed its intentions without expressly saying so.
"Few weeks back, Obasanjo came to Lagos to visit Pa Ayo Adebanjo and we are here again today to return the visit in order to further strengthen the friendship with the group," Odumakin said.
"The meeting also aims at creating a harmonious position in Yorubaland over the leadership of the country in respect of the 2019 general election.
"The elections are around the corner and leaders across Nigeria are coming together to discuss the event, which is so crucial to the life of the nation. All hands must be on deck to get the country re-established and all grey areas must be ironed out."
Describing the 2019 presidential race as "exciting" in terms of the candidates, he said the group would support any candidate who prioritises restructuring, because Nigeria cannot realise its dream without restructuring.
"The most important thing to the Afenifere group is the issue of restructuring," Odumakin said, adding that the group would name its preferred presidential candidate.
"An official pronouncement would be made on the decision," he added. "The pendulum is swinging and we will let you know where it finally settles."
Members of the group who attended the meeting include Prince Olagunsoye Oyinlola, former Governor of Osun State; former Minister of State for Defence, Mrs. Dupe Adelaja; former Nigerian Ambassador to the Netherlands, Dr. Tokunbo Awolowo-Dosunmu, Sen. Femi Okurounmu, Prof. Banjo Akintoye, Mr. Yinka Odumakin, Mr. Supo Sonibare, Chief Ayo Adebanjo and Hon. Oladipo Olaitan.