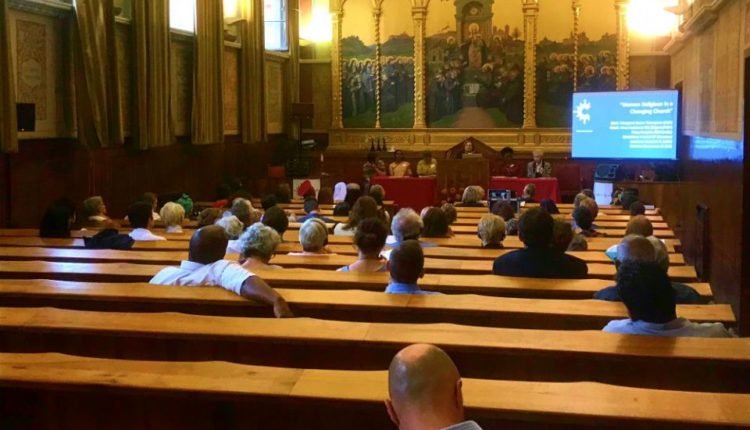 ROME — The delegates gathering today for the month-long synod of bishops will hear few, if any, women's voices inside their Vatican meeting hall. That's a situation that theologian Tina Beattie wants to remedy, even if it's from the other side of town.
On Oct. 1, Beattie and several colleagues hosted a symposium of mostly Catholic women's voices at the Pontifical University Antonianum, about 4 miles from where more than 300 Catholic bishops are opening the Synod 2018 on Young People, the Faith and Vocational Discernment Oct. 3
"At this time of crisis in the Roman Catholic Church, we believe it is more important than ever to draw attention to the absence of women's voices from the church's leadership and decision-making processes," said Beattie, director of the Digby Stuart Research Centre for Catholic Studies and director of Catherine of Siena College at the University of Roehampton, London.
The event was the official launch of the new book Visions and Vocations, a collection of theological and personal reflections by Catholic women. It is a follow up to the 2015 volume Catholic Women Speak: Bringing Our Gifts to the Table. Both were published by Paulist Press for Catholic Women Speak.
Visions and Vocations features contributions from more than 60 women and girls from 20 countries ranging in age from 14 to 85.
The same kind of diversity was on display in the Antonianum, with a jam-packed, eight-hour program that featured more than 50 participants from dozens of countries and cultures.
Every one of them had something to say about the current crises facing the church.
'Why are there no women?'
But for Lucetta Scaraffia, chief editor of Donna Chiesa Mondo ("Women, Church, World"), a magazine focusing on women's issues published as a supplement to L'Osservatore Romano, the big question was "Why don't women raise their voices?"
"We do not say anything" when women are excluded from church decision making, she said. "We have to take the floor and say, 'Why are there no women?' "
Though Scaraffia insisted she is not a feminist, she claimed to be "leading a war against the patriarchy of the church."
She believes that there is too much focus on the sexual abuse of children but not nearly enough attention given to the violence done to women by church officials.
"As long as we're raped by bishops and priests, we're not going to change anything. Our battle should be to recognize women who are abused," said Scaraffia, who in March published an exposé on the exploitation by cardinals and bishops of nuns who do domestic work at the Vatican.
Ursula Halligan, a journalist from Ireland, echoed the call for lay Catholics to step up and demand justice.
"Otherwise we will be complicit," said Halligan, who came out publicly during the 2015 Irish referendum on marriage equality.
Unlike many Irish Catholics who have left the church, Halligan says she "has resolved to stay in the church, but not remain quiet."
For Halligan, the crises in the church aren't simply rooted in clericalism, but in "really bad theology."
"We are in a church that taught us not to question, and we have to break out of that," she said.
Celia Viggo Wexler, author of the 2016 book Catholic Women Confront Their Church: Stories of Hurt and Hope, believes that the lack of theological curiosity on the part of the hierarchy is leading to an exodus of women from the church.
"We are losing the women who think," said Wexler. "And they're not coming back."
Wexler had a rather original suggestion for how the church might begin to truly atone for the scourge of sex abuse and cover up.
"I'm calling on Pope Francis to start the process to canonize Barbara Blaine," said Wexler, who profiled the late clergy abuse survivor and activist in her book.
Sex abuse wasn't only at the forefront of the minds of women from the U.S. and Europe. South African theologian Nontando Hadebe offered a stirring call for action.
There is something monstrous going on that needs attention," she said, whose contribution to Visions and Vocations, focused on the "corrective rape" of lesbians in her home country.
'This is a kairos moment'
"This moment has pulled back the curtain and allowed us to look into the abyss of a toxic brotherhood," Hadebe continued, calling for a total shutdown of every church and every seminary until there is genuine, communal repentance on the part of every bishop.
"This is a kairos moment," she added. "Everyone should be speaking out, saying this is not us; this cannot be done in our name."
Interspersed throughout the program were readings from high school-aged women, a recurring reminder of the youth synod that precipitated the timing of the symposium.
The students, from Ursuline High School in Wimbledon, in southwest London, read from a letter they wrote to Pope Francis. The students were tasked with reading and reflecting on Francis' apostolic exhortation on marriage and family life, Amoris Laetitia. Their letter offered their own critiques of some of themes of the papal letter, including its notions of the so-called feminine genius and of motherhood as a women's most essential vocation.
The young women also raised concerns about some of issues that weigh heavily on their spirits, including the plight of poor women, mental health crises and the growing rate of suicide.
The final panel of the day, called "Women and Priests in Conversation," offered the rare opportunity to hear priests in good standing not only advocate for the ordination of women, but also engage in respectful dialogue with women who either want to be priests or who advocate for a fully inclusive Roman Catholic priesthood.
"There are 400,000 Catholic priests worldwide," said Colette Joyce, a pastoral minister in one of the largest Catholic parishes in England. "I believe there are 400,000 women poised and ready to take up priestly ministry as soon as they are called to do so."
For Jesuit Fr. Luke Hansen, who is American, but currently studying in Rome, the church needs women priests to attend to the needs of a suffering world.
"We need every person and every gift. We need men and women serving as priests," he said. "The mission is too important and the needs are too great to constrain ourselves by gender and celibacy."
Evoking the earlier theme of "bad theology," Luigi Gioia, a Benedictine priest and scholar, argued that the church has to dismantle the link between ordination and the Incarnation, which leads Catholics to think of priests as "other Christs on Earth."
"Jesus said, 'I am with you until the end of time,' " Gioia noted. "If we believe Christ is present always through the Holy Spirit, then we have to think about the priesthood in a different way."
"If we want to advance a theological discourse on what ordination in the church means," Gioia added. "We have to start by correcting our vision of ordained ministry."
Kate McElwee, executive director of the Women's Ordination Conference, offered a critique of Catholic women activists who exclude those who advocate for women priests from their events and publications, particularly out of fear that campaigning for women's ordination will undermine their ability to make progress with church leaders.
"When we self-silence or do not listen to women who have a discernable vocation, we do our church a great harm," she said.
"I'm not called to priesthood, but I am called to equality," McElwee added.
Echoing a sentiment expressed frequently these days in the U.S. in a different context, McElwee called on all of the church hierarchy to be in dialogue with women who feel called to the priesthood.
"We need to believe women," she said. "We need to believe their stories."