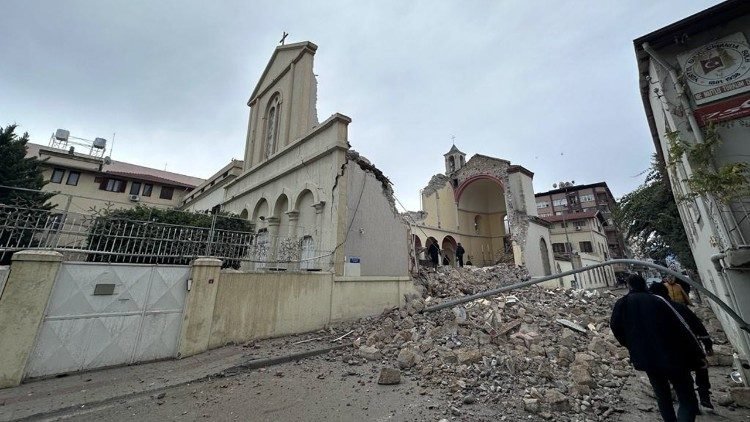 Pope Francis renews the Church's support for people suffering in Turkey and Syria as a result of devastating earthquakes, as countless lives and buildings lie in ruins, including the Cathedral of Iskanderun.
By Devin Watkins
"Now is the time for compassion and for solidarity. We must put aside hatred, wars, and divisions that lead to self-destruction. Let us unite in our sorrow to help those who suffer in Turkey and Syria. May we build peace and fraternity in our world."
Pope Francis tweeted those words of support on Thursday for the tens of thousands of people whose lives have been lost or overturned by a pair of catastrophic earthquakes in southeastern Turkey.
Concrete solidarity in action
The Pope's expression of closeness follows several others he has made via various channels following Monday's earthquakes.
His public words have been backed up by numerous humanitarian responses on the part of the Catholic Church.
Caritas Anatolia, the Church's local humanitarian outfit, is on the frontlines in receiving and distributing aid to assist thousands of people left without a safe roof over their heads.
Fr. Antuan Ilgit, SJ, the Vicar Delegate and Chancellor of the Apostolic Vicariate of Anatolia, spoke to Vatican News' Marco Guerra about the Church's humanitarian outreach.
High altar in the ruined cathedral
Efficient and equitable assistance
Speaking by phone from the southern Turkish city of Iskanderun, near the border with Syria, Fr. Ilgit said Caritas has been handing out hot meals to local residents without distinction.
"The Church in Turkey is demonstrating great unity," he said. "The Bishops are sending aid which we distribute to people of all faiths. I can affirm that the Catholic Church is one of the institutions which is functioning best at this moment."
The Catholic Cathedral of Iskanderun was completely destroyed by the violent tremors.
Yet, the church has thrown open its doors to welcome people in need.
"Around 100 people of all faiths have found refuge here because we have a large courtyard, where we offer assistance," said Fr. Ilgit.
A woman huddles under blankets in nearby Syria
Christian unity amid the crisis
The Apostolic Vicariate of Anatolia covers around half of Turkey's landmass, large parts of which were affected by the earthquakes.
As the Vicar Delegate, Fr. Ilgit said Caritas Anatolia seeks to distribute humanitarian aid to many remote areas where none has yet arrived.
"We try offer level-headed assistance," he said, "because in the midst of this tremendous emergency people tend to hoard aid which is greater than their needs."
The Church in southeastern Turkey has also joined forces with other Christians in the midst of the tragedy, including priests from the Armenian Orthodox community.
"Just a few ago we had a prayer vigil for Christian unity with them," noted Fr. Ilgit. "We are united in this emergency. The Armenians share with us the aid they receive from their patriarchate, and we share with them the aid that came to us from the Apostolic Vicar of Istanbul."