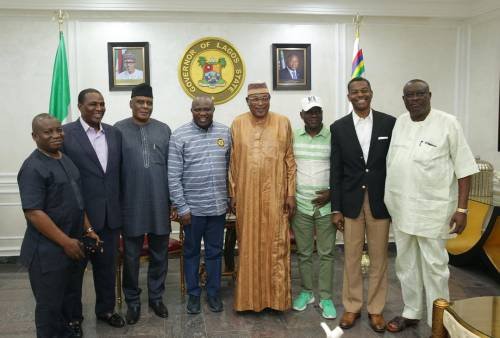 Members of the National Working Committee (NWC) of the All Progressives Congress have arrived Lagos.
They arrived Lagos on Monday, and met with Akinwunmi Ambode, who is seeking a second term on the party's platform.
It is expected that the NWC addresses the ongoing issues relating to Ambode's candidature, especially as he has apparently fallen out of favour with national leader of the party, Bola Tinubu.
Ambode had taken Babajide Sanwo-Olu, another Lagos governorship aspirant, to the cleaners on Sunday, when he addressed a world press conference.
Referring to his opponent, which could have been no other but Sanwo-Olu, Ambode described him as "somebody that has been arrested for spending fake American dollars in a night club".
Ambode also said Sanwo-Olu "also knows that he doesn't have the competence to do what he is being propelled to do", insiting that "his records are there at Gbagada General Hospital; this is somebody that has gone for rehabilitation before."
However, Sanwo-Olu, in his response, said he forgave Ambode for the statement, while describing the comments as unbefitting of the office of the governor.
Tinubu had also issued a statement on Sunday, alluding to Ambode's deviation from his "master plan" for Lagos.
Following the arrival of the NWC on Monday, Ambode expressed optimism that they would do everything to ensure that the governorship primary is "free, fair and transparent".
News of their arrival in Lagos was announced via a tweet by the governor that read: "Members of APC National Working Committee Panel for the Lagos Primaries have arrived in Lagos. I am confident that they will do everything to ensure that the Primaries are free, fair and transparent."