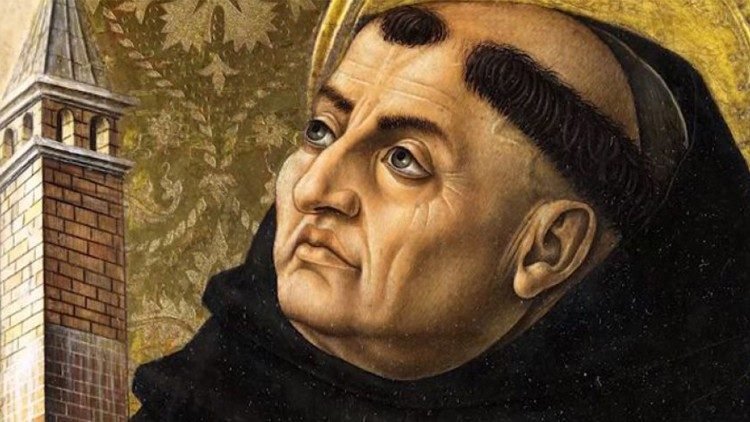 The Pontifical University of St Thomas Aquinas – known as the Angelicum from Thomas' title of "Angelic Doctor" – hosts a two-day Conference on Thomas Aquinas: Magister Spiritualis ("Spiritual Master").
By Christopher Wells
As part of celebrations marking the 700th anniversary of the canonization of St Thomas Aquinas, the Pontifical University named for the great Dominican saint recently hosted a conference on Thomas Aquinas: Spiritual Master.
St Thomas Aquinas is known as "the common doctor" of the Catholic Church, explains Dr Donald Prudlo, because "he is a defender of the commonalities of everyday life, of the validity of our sense knowledge, of our ability to know revelation and to know revelation and defend it through reasonable contact as well."
Synthesizing the wisdom of faith and reason
The Conference at drew scholars from around the world "to discuss how Thomas brings us this knowledge, why he's a master of the knowledge of the fathers, both Greek and Latin fathers, why he is a master of philosophical wisdom, bringing the treasures of Greek philosophy to us, why he's a master of the preached word, why he is a master of the Dominican life itself, the mixed life of action and contemplation, bringing the fruits of contemplation to others through the preached word."
Prudlo explained that St Thomas "synthesizes for us all of the wisdom that comes through us for reason and revelation in the Western tradition" including Scripture and Tradition, the Fathers of the Church, Greek philosophy, and human reason.
He also "brings a sapiential dimension, as Pope Francis recently put it in his document about theology" [Ad theologiam promovendam, ed.], and helps us "to understand theology… and how to encounter the Risen Christ through theology."
The relevance of St Thomas in the contemporary world
The key to the Conference, said Prudlo, is understanding how St Thomas is relevant today. The great Doctor of the Church is "relevant in the study of theology and philosophy and he's relevant in the life of the church today and he's relevant for a very singular reason because he brings together the common experience."
Saint Thomas Aquinas "brings together the common experience of the Christian faithful knowing that their realities, their ways of interacting with God are connected to their human nature, are connected to the revelation of God, and are incarnated in the God-man Jesus Christ."
Dr Prudlo continued, "Christ undertook our human nature in order to enable us to experience across time and across culture his saving grace," adding that "for this reason, Thomas is a critical node in helping us to communicate to the generation of today."