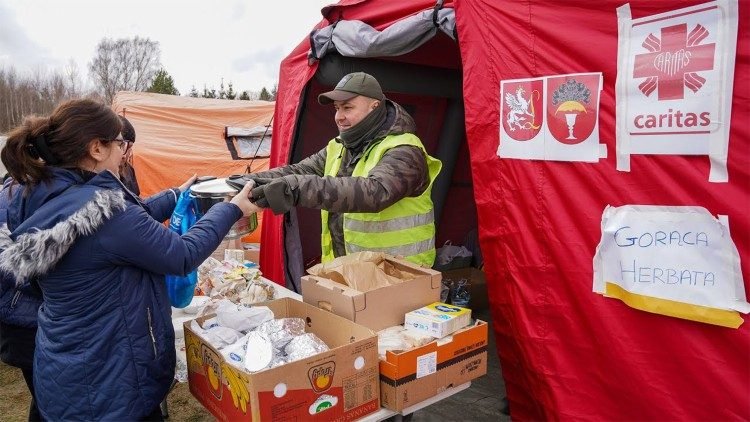 On World Refugee Day, Caritas Internationalis and Caritas Europe reiterate their call for international solidarity in welcoming refugees and asylum seekers without discrimination, drawing on Europe's response to those fleeing Ukraine.
By Lisa Zengarini
On the occasion of World Refugee Day 2022, Caritas Internationalis raised its voice and expressed concern about the lack of international solidarity in welcoming refugees and asylum seekers without discrimination. "Every person has the fundamental right to seek and enjoy asylum", said a statement echoing this years' theme 'Whoever, Whatever, Whenever. Everyone has a right to seek safety'. "Their call for safety and for a life in dignity has mostly remained unheard and Caritas will not be deaf to the cry of the poor of our world or be silent about their plight and their resilience in rebuilding their lives".
100 million people forcibly displaced worldwide in 2022
In the first months of 2022, more than 100 million people were forcibly displaced worldwide due to persecution, conflict, violence or human rights violations, the highest levels of displacement on record. From 2019-2021, more than 8,436 migrants, including asylum seekers, have lost their lives and 5,534 migrants have gone missing in transit.
Standing with refugees and asylum seekers
In its statement, Caritas Internationalis reiterated its commitment for refugees and asylum seekers, saying it stands with them to save their lives and nurture a culture of encounter, non-discrimination, and sharing.
"Through the Humanitarian Corridors, European, Middle East and African Caritas Confederation Members have assisted, jointly with other faith-organizations, vulnerable asylum seekers fleeing from conflicts and violence to reach safe destinations and welcoming communities where to restart their lives. They have advocated for rescue and safe and secure disembarkation of people at risk of their lives in the Mediterranean and all across the world."
"Providing all refugees and asylum seekers with access to basic services, vocational training and work opportunities, both in the countries of transit and of destination, without any discrimination, is a key to restore their dignity and their aspiration for a peaceful life", the statement concluded.
Everyone has the right to protection
The Caritas internationalis call and commitment were echoed by Caritas Europe who published a video on its website with testimonies from three refugees from Ukraine, Somalia, and Syria.
The European branch of the Confederation urged EU decision makers to ensure safe pathways, dignified reception, and integration support for all people seeking refuge in the EU, regardless of their country of origin, noting that the positive response to those fleeing war Ukraine show that where there is political will, there is a way
According to Caritas Europe, "this is a matter of global solidarity since countries near conflict zones have been accepting almost 90% of the world's displaced for years, despite numerous domestic challenges, which have only worsened by soaring food insecurity and supply chain challenges linked to the war in Ukraine".
Drawing on the welcoming response to those fleeing Ukraine
People on the move should not be perceived as a threat, and pushbacks at our borders must stop immediately, said Maria Nyman, Secretary General of Caritas Europa. "Instead, we urge European leaders to provide a humane response to all, drawing on the welcoming response to those displaced from Ukraine".
"The unprecedented response and immediate political act of solidarity towards those fleeing the war in Ukraine inspires hope that when there is political will, incredible efforts can be made to facilitate access to protection and support refugees' full participation in society, in line with EU values. A refugee is a refugee, and this is not the moment to scale back Europe's commitment to refugee protection."