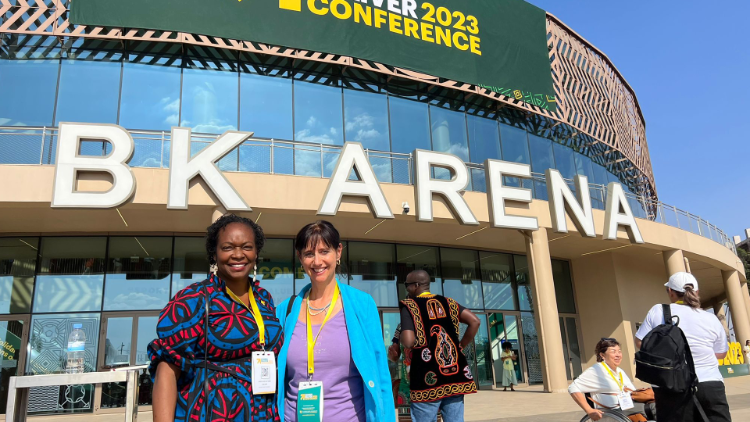 As 6,000 women from all over the world come together in Kigali, Rwanda, to take part in a project to create more integrated environments, Lia Beltrami presents works supported by the Dicastery for Communication and highlights the importance of networking.
By Antonella Palermo and Edoardo Giribaldi
The "Women Deliver" 2023 International Conference has gathered over 6,000 women from across the globe in Kigali, Rwanda, from 17 to 20 July.
Dialogues and sharing
The convention is one of the largest multi-sectoral gatherings to promote gender equality, held every three years and for the first time in Africa.
The meeting featured dialogues and sharing of best practices organized by civil society groups, governments, individuals, foundations and charities, youth groups, and communities facing systemic discrimination.
The program presented both in-person and online discussions, with topics ranging from health to economics to education to art.
At the opening ceremony were present, among others, the presidents of Rwanda, Senegal, Ethiopia, Guinea, and Graça Machel, Nelson Mandela's third wife.
"Networking is the key"
Lia Beltrami, filmmaker and art director, participated on behalf of the World Women's Observatory, an initiative of the World Union of Catholic Women's Organisations (WUCWO). She is the author of the exhibition Women's Cry and the documentary In-Visibles, both projects supported by the Vatican Dicastery for Communication (Vatican News' parent organization).
"Networking is the key," according to Ms. Beltrami, who underlined the presence of international foundations and Nobel prize-winners parallel to the presentation, as well as "start-ups carried out by women in Rwanda."
"Through women we work for a different construction, starting from the scars of war."
Women's Cry
Ms. Beltrami focused on her Women's Cry exhibition, which is part of a larger project called "Emotion to generate change," aimed at touching "hearts through art."
The 26 photos, portraying thematics ranging from labour and motherhood to environmental issues, are all accompanied by a quote from the Encyclical letter Fratelli tutti.
Lia Beltrami and Angelique Mutombo, Senior Program Officer, Catholic Sisters Initiative (Africa) Hilton Foundation
"After years where it all became online, to meet in person so many women from all corners of the world is a thrill," Ms. Beltrami affirmed, stating how "there is no one-size-fits-all thinking," but, instead, "there is room for everyone."
She also noted the importance of the presence of the Catholic world through the exhibition, a very "advanced perspective," which allowed Women's Cry to be selected as a finalist at the WD2023 Arts & Film Festival along with 140 other works.
In-Visibles
The artist also touched on her other project, the movie In-Visibles, which has already been awarded at the Stockholm Film Festival and the Charity Film Festival in Monte Carlo and selected to be screened at six other festivals.
"It means that these invisible women are not so invisible anymore," Ms. Beltrami observed, also emphasizing how important it is for Africa to host such an impressive crossroads of women carrying experiences that might serve as a stimulus for other realities where the condition of women is still low-profile.
That same Africa that, recalling Pope Francis' appeals, must not be forgotten. 
A call that, according to Ms. Beltrami, has been well-received. "I have already found women here who had gone to see the Pope in Congo and South Sudan. They told me they had gone to hear him 'because his voice is a beacon for everyone', this they told me, even many non-Catholics."