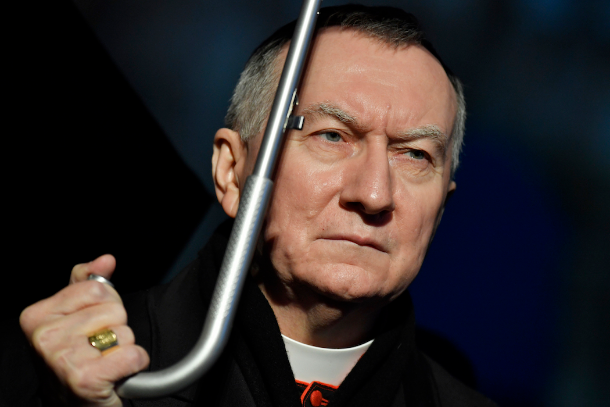 In 2002 Pope St. John Paul made the appointment that would underpin the Catholic Church's efforts to begin repairing relations with Asia's two main communist states, China and Vietnam, when he named Msgr. Pietro Parolin as undersecretary of state for relations with states in the Secretariat of State.Improving relations with officially atheist communist states had been a key focus for the Polish pope who continued the Vatican's long-held policy of Ostpolitik towards these countries.That policy was basically keeping dialogue open between the Vatican and communist-ruled countries despite their general repression of all religions. The idea was to win small gains and work towards eventually normalizing relations.Vietnam and especially China posed new problems for the Vatican, which was keen to normalize its relations with former French colonies Vietnam, Cambodia and Laos as well as China, which ended just nine years of diplomatic relations with the Vatican in 1951, two years after the communists won power.The Vatican, had, of course, been keen to recognize bishops of the newly independent countries of Laos, Cambodia and South Vietnam
Vietnam deal points way for China-Vatican progress
Will the Vatican be prepared to recognize the Chinese Catholic Patriotic Association?
Vatican Secretary of State Cardinal Pietro Parolin looks on during a ceremony outside the Roman Colosseum on Feb. 24. He began the process that led to the recent China-Vatican deal on the appointment of bishops. (Photo by Andreas Solaro/AFP)
In 2002 Pope St. John Paul made the appointment that would underpin the Catholic Church's efforts to begin repairing relations with Asia's two main communist states, China and Vietnam, when he named Msgr. Pietro Parolin as undersecretary of state for relations with states in the Secretariat of State.Improving relations with officially atheist communist states had been a key focus for the Polish pope who continued the Vatican's long-held policy of Ostpolitik towards these countries.That policy was basically keeping dialogue open between the Vatican and communist-ruled countries despite their general repression of all religions. The idea was to win small gains and work towards eventually normalizing relations.Vietnam and especially China posed new problems for the Vatican, which was keen to normalize its relations with former French colonies Vietnam, Cambodia and Laos as well as China, which ended just nine years of diplomatic relations with the Vatican in 1951, two years after the communists won power.The Vatican, had, of course, been keen to recognize bishops of the newly independent countries of Laos, Cambodia and South Vietnam.
In 1994 the Vatican established diplomatic relations with the nominally democratic, authoritarian regime in Cambodia that has been ruled by prime minister-cum-dictator Hun Sen's Cambodian People's Party since 1986. The Vatican does not have diplomatic relations with communist Laos and the countries share the episcopal conference of Laos and Cambodia. The Vatican has an apostolic delegate to Laos and both this position and the nuncio to Cambodia are invested in the nuncio to Thailand.Parolin, now a cardinal, would be instrumental in shaping the Vatican's initial stages of reconciliation with Vietnam — a process that remains ongoing — and eventually the creation of the provisional Sept. 22 deal between the Holy See and Beijing on the appointment of bishops, which the Holy See hopes is just the first step towards improved relations with China.Pope St. John Paul had already made some headway with Vietnam by the time Parolin was appointed. After the end of the war between the U.S. and Vietnam (in the West called the Vietnam War, in Vietnam called the American War) a reunited Vietnam fell under communist rule.In 1975 the government closed seminaries in the country but they were reopened in 1986, remaining under the supervision of the authorities, and only every six years were new seminarians allowed to enter, with a strict limit on numbers.In 1980 the Catholic Bishops' Conference of Vietnam (CBCV), which had been formed in 1960 for South Vietnam, reformed in communion with the Holy See and has never appointed its bishops without pontifical approval.After his 2005 election, Pope Benedict XVI made it clear that normalizing ecclesiastical appointments with Hanoi and Beijing would be a focus for him.Parolin made quick progress and in January 2007 Vietnamese Prime Minister Nguyen Tan Dung visited Pope Benedict XVI in Rome. In 2008 the next phase of the deal was struck with Hanoi that the government would remove the limits on seminarian numbers, triggering a surge in candidates for priesthood and eventually priests.As the result of the 2007 visit, in 2009 a joint working group between the two sides with the explicit aim of working towards diplomatic relations was set up.In 2011 a deal was announced that would see the Vatican recognize all Vietnamese bishops and choose all new bishops from three names submitted by Hanoi.In December 2017 the working group met for the seventh time in Hanoi, yet it is unclear how close any final deal may be. Archbishop Marek Zalewski, the recently appointed nuncio to Singapore and the second non-resident apostolic delegate to Vietnam, attended a meeting of the CBCV from Sept. 24-28 in My Tho City, southern Vietnam.The situation with Vietnam was significantly less complicated than it is with China in three key ways: Vietnam had a far bigger proportion of Catholics, about 7 percent, in its population; the estimated number of Catholics in Vietnam is about eight million; and the Vietnamese Communist Party has never created its own state-run church organization like the Chinese Catholic Patriotic Association (CCPA).And there were no diplomatic complications in that there is only one Vietnam but "two Chinas" even though the Vatican considers Taiwan and Hong Kong to be part of the broader Chinese Catholic Church. As well, the Vatican has long had diplomatic relations with Taiwan (the Republic of China). Under the "one China" policy, the People's Republic of China will only institute diplomatic relations with countries who do not officially recognize Taiwan.Still, it's been clear the the Vietnam model has been at the very least a starting point for discussion between China and the Vatican on the appointment of bishops, and there have been signs that the blueprint is still influencing discussions. To advance the China talks, Pope Francis appointed Cardinal Parolin as Vatican secretary of state.In January this year Bishop Joseph Ma Yinglin, president of the Bishops' Conference of the Catholic Church in China (BCCCC) and one of the eight excommunicated bishops (one deceased) who were forgiven and recognized by the pope as part of the Sept. 22 deal, made mention of it."We know there is a process of how bishops will be selected in China; this was one of the main criteria for discussions. It would probably be something similar to what Vietnam would have, knowing that each country is a unique country and has its own approaches to the appointment of bishops, especially because of the nature of China," he said.It is noteworthy that Bishop Ma brought up Vietnam at a stage when the basic form of the Sept. 22 agreement had been set. The only stumbling block at this stage was the recognition of the seven excommunicated Chinese bishops who had been appointed by Beijing without the approval of the Vatican.The next stage for the Holy See and Beijing, now that the issue of bishop appointments has been settled, is recognition of the BCCCC. This raises one of the key differences between Vietnam and China as the CCPA effectively operates in tandem with the BCCCC.Does this mean that the Vatican is prepared to recognize the CCPA as well? It's hard to see Beijing not insisting on this unless it somehow unpicks the relationship between the two groups, or both sides simply pretend it is not there.Still, before any of this, the two sides have to reach an agreement on what status Beijing gives the 38 or so underground bishops, active and inactive, appointed by the Vatican but not recognized by Beijing